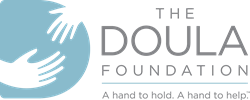 Our goal was to create a new, emotionally charged brand identity for the foundation.
Springfield, MO (PRWEB) October 01, 2013
The marketing agency deep today unveiled the identity package it created for The Doula Foundation. The branding materials include a new logo, tagline, redesigned website and a print ad campaign. The ad agency provided extensive work on a pro bono basis because they are confident the campaign and refocused identity will better position The Doula Foundation to serve new and expectant mothers in Missouri, where deep is headquartered.
Deep Partner, Creative Director Dan Stewart has led many persuasive advertising efforts for non-profit organizations, and he and the entire deep staff were excited to lend their talents to The Doula Foundation: "Projects like this are completely rejuvenating. Knowing that we're giving some time to help people in our community, particularly Missouri moms, simply feels great. It's refreshing on every level, and it brought the best out of our creatives."
The agency has gained recognition for producing stunning print ad campaigns, and the ads for The Doula Foundation should bring much needed attention to the organization's mission. Striving to empower all mothers during a critical time period, The Doula Foundation provides services that promote the child-parent bond and ease physical and emotional challenges during pregnancy, birth and early life. To date, the foundation has helped fund doula services, prenatal yoga, baby yoga and childbirth classes for more than 4,000 mothers and their families in Missouri.
While many of its campaigns involve food branding for the business-to-business foodservice sector, deep has extensive experience creating identities and advertising materials for consumer-facing brands. Discussing how this project compared to previous projects, Stewart said, "Developing The Doula Foundation's identity was quite a challenge. Not many folks are even familiar with what a Doula is—myself included, initially. We had to visually interpret the services and, more importantly, the benefits of The Doula Foundation. Their identity needs to tell their story both functionally and emotionally. It is an interpretation of their product and services offered. Our goal was to create a new, emotionally charged brand identity for the foundation, and with the addition of their new tagline, 'A hand to hold. A hand to help.,' I believe we achieved exactly that."
The revamped tagline and logo reflect the principles that drive The Doula Foundation, evoking thoughts of what mothers can expect to find there. In the logotype, the large 'D' mimics a pregnant mother's belly, and the hands appear to caress and nurture the child within. The hands also appear to be reaching toward each other in an act of support or giving, demonstrating the mission and goal of The Doula Foundation: to provide emotional and physical support for the family.
Deep has created a powerful campaign for a mission of empowerment, and it should help The Doula Foundation connect with many more soon-to-be parents.
deep
Founded in 2005, deep is renowned for breakthrough food branding campaigns in both B2B and direct-to-consumer advertising. The agency provides inspired creative that compels consumers and positions brands top of mind. As part of the Marlin Network, deep is managed in Springfield, Mo. and is independently and completely employee owned. The Network represents over 70 food and beverage brands and consistently tops the list for purchasers of foodservice media. Marlin Network consists of deep, Marlin, Marlin Network Consulting, The Alchemedia Project, STARAwards and FoodIQ. In 2010 and 2011, as a member of the global Transworld Advertising Agency Network, the Network was included in Inc. Magazine's lists of America's Fastest Growing companies. For more information, visit deepgroup.com or follow them on Facebook, Twitter, Flickr and the b!eep blog.