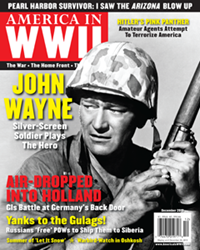 Why didn't the Duke step forward and join the US military?
Harrisburg, PA (PRWEB) October 25, 2013
He was the iconic face of the tough American fighting man. On film, actor John Wayne—known to friends and fans as the Duke—captured the swagger, the rough edges, the no-nonsense attitude, and the honor of battle-tested sea captains, fighter pilots, Seabees, PT boat sailors, soldiers, and marines. Yet he did not enlist for military service when World War II engulfed the United States.
Ever since, and even during the war years themselves, Wayne's critics and fans alike have posed the question: Why? Why didn't the Duke step forward and join the US military like actors Clark Gable, Douglas Fairbanks, Jr., Jimmy Stewart, and many others? (Stories of the WWII exploits of Gable, Fairbanks, and Stewart appeared in earlier editions of AMERICA IN WWII, and in the magazine's 2010 special issue STARS IN WWII.)
"At the heart of the issue were business and women," writes author John E. Stanchak, in the richly illustrated cover article of AMERICA IN WWII magazine's December 2013 issue, now on bookstore and digital newsstands. Wayne "declined to face down studio chiefs and angry lovers," Stanchak says.
In his article, "Hollywood's Hero," Stanchak writes that later in life, Wayne "openly confessed to suffering guilt" over not serving in uniform in World War II, "though he never elaborated on why he did not volunteer." As a result, "the task of pinning down the reasons why Wayne remained a civilian throughout the war was left to biographers and researchers."
Wayne starred in five combat films during World War II. A sidebar in the AMERICA IN WWII article lists Flying Tigers (1942), Reunion in France (1942), The Fighting Seabees (1944), Back to Bataan (1945), and They Were Expendable (1945). After the war, in 1949, he made perhaps his most memorable war movie, headlining in Sands of Iwo Jima.
According to Stanchak's article, Wayne wanted to enlist, and even asked his friend, director John Ford, who himself served in the US Navy, for advice on enlisting despite his studio's disapproval. Ford suggested he simply join the service and let the chips fall where they may, but Wayne feared a lawsuit from Republic Pictures and trouble for the wife with whom he was unhappily married, their four children, and his mistress.
The December 2013 issue of AMERICA IN WWII, featuring Stanchak's article on John Wayne, is on newsstands through December 24.
AMERICA IN WWII is a bimonthly magazine about the American experience in the Second World War—the war, the home front, and the people. It is available at Barnes & Noble and Books A Million stores, and select other bookstores.
Subscriptions to the print edition are available at 1-866-525-1945 (toll-free). Readers can also find digital editions for any device by searching for "america in wwii" on their devices' app stores, or by visiting http://www.AmericaInWWII.com/subscriptions/ (print subscriptions can also be purchased there).
AMERICA IN WWII and AmericaInWWII.com are publications of 310 Publishing LLC of Harrisburg, Pennsylvania, a company committed to telling the stories of history in human terms.