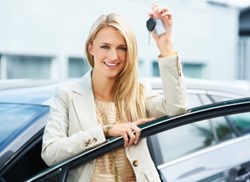 Greenville, SC (PRWEB) November 26, 2013
Exploring buying a car can be quite daunting if one's credit is challenged. Even the thought drives terror into the hearts of some. At EasyMotorCredit.com, not only can one explore purchasing a vehicle, credit repair and rebuilding advice is also offered so as to change the financial health of the applicant forever.
If followed, this advice could prove to be the best thing to happen to one's credit. EasyMotorCredit.com is able to offer anyone car loans due to excellent relationships with lenders who then bid on the right to offer car loans even to those with the most challenged credit.
Their local and national financing rates are the lowest in the nation for applicants with good credit, no credit, and bad credit auto loans. A bad credit history, or no credit history at all, does not mean that one will be burdened with a high interest rate. EMC specializes in getting anyone approved for an auto loan regardless of their credit score, even if one has been rejected by everyone else. They not only qualify nearly 100% of their loan applicants, but also strive to find the best quality loans with extremely low rates. EasyMotorCredit.com specializes in working with applicants who have bad credit, no credit, have had a car repossessed, or even filed bankruptcy.
To apply for an auto loan today visit https://easymotorcredit.com/apply/
About EasyMotorCredit.com:
EasyMotorCredit.com is the #1 provider of national and local auto loans. Our approval process is fast! We understand that it can be embarrassing and frustrating to not be able to qualify for a car loan or student auto loan that would enable you to purchase the proper vehicle for you or your family. The approval process starts with the car lender. We provide people with the best auto lender network. Get approved for an auto loan fast! Drive your dream car home. EasyMotorCredit.com will never turn anyone down.