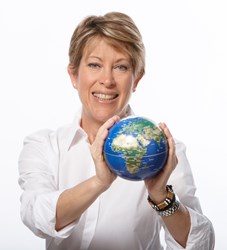 Cultural factors have significant bearing on business profitability.
Sydney, Australia (PRWEB) November 03, 2013
Multinational and multicultural companies are prominent in the global economy, offshore outsourcing is growing, and ethnic entrepreneurship is significantly over-represented in many economies.
"With so many cross-cultural deals and relationships, cultural factors have significant bearing on the success of business," corporate culture specialist and travel author Victoria Ugarte explains. "Advanced cultural sensitivity can improve the success of contract negotiations, the management of projects, provide harmonious and productive workplaces (here and offshore), and assist in the training and motivation of staff," Ugarte enthused.
Nine cultural negotiation insights to increase turnover and profitability:
1. Consider Communication Etiquette: A spoken 'yes' does not always mean 'yes' in many cultures. It could mean 'maybe' or even 'no,' depending on the accompanying body language. Many cultures, like the Indian or Japanese, find it difficult to say 'no' as this interferes with their need to maintain harmony and save face. It becomes even more challenging when a foreign host maintains an impassive expression when speaking and utilizes silence in their negotiations. It is vital to become more adept at reading and understanding Asian body language subtleties and non-verbal cues.
2. Research Cultural Orientation: Some countries and nationalities are goal oriented (e.g. the US and Australia) and some are context-oriented (e.g. China). Negotiations can be jeopardized when businesses put proposals together incorrectly assuming they will be analyzed according to their own cultural persuasions.
3. Know About Local Values: Different cultures have different values. While some countries (such as Australia) view nepotism as unfair and unacceptable in business, many cultures place high value on personal connections. Favoritism is often granted in politics or business to friends and relatives in certain cultures, regardless of merit. Be aware of this and work with it, rather than against it.
4. Research Appropriate Behavior: It is important to know which manner of speaking or topics of conversation can cause offense and jeopardize business relations. Loud and unstructured chatter at a formal Japanese tea ceremony, for example, can have serious ramifications. Giving an unsuitable gift, not understanding the correct dining etiquette and using the wrong hand gestures are other areas where one can unwittingly offend.
5. Level of Hierarchy: While some enjoy an open and egalitarian society, many cultures have a more entrenched institutional hierarchy that dictates the order of how people interact with each other and do business. Age, education, family heritage, gender, accent, even dress, can immediately affect the gravitas of the business approach. Overlooking elderly members in a group or neglecting to introduce people in the correct order can be seen as a serious faux pas in certain societies.
6. Dress Appropriately: What constitutes appropriate dress in one culture may be highly inappropriate in another. For example, what may be considered an acceptable clothing choice for women in the West is seen as highly improper and even illegal in certain areas of the Middle East.
7. Consider Choice of Color: Certain colors carry a particular significance in different cultures. An inappropriate color choice in clothing, gifts, and even flowers can send conflicting messages.
8. Read Up On Local History: Every culture has its own set of historical influences that have played a major part in forming the current local customs. It is unwise to assume that globalization and high technology have resulted in all cultures thinking the same way.
9. Know The Religion & Degree of Patriarchy: Knowing about certain religions and the level of patriarchy within a culture is vital. Not only does this have bearing on the local laws, their values, and the standing of women within that culture, but it dictates how one must speak, act and dress.
"In my five decades of observing different cultures, I've seen deals and relationships jeopardized because of ignorance and arrogance. I too have committed my fair share of cultural faux pas in my earlier years," Ugarte explains. "Cultural instincts are more hardwired than immediately apparent," she continued, "there is a complex cultural matrix, with women far more affected than men".
As a final word, Ugarte adds, "All entrepreneurs are looking for long term, profitable and respectful business relationships – cultural sensitivity helps us reach that goal."
To download Victoria Ugarte's free report 7 Strategies for Understanding Corporate Culture visit http://www.victoriaugarte.com/talesfromatravlercom/. Ugarte's book, "Culture Savvy for Women" is available on Amazon.