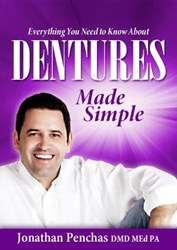 Finally, Dentures are explained in simple terms. Short, easy to understand and illustrated.
You can become an expert in less then an hour. - Dr. J Penchas
Houston, Texas (PRWEB) November 27, 2013
Midtown Dentistry is a Houston cosmetic dentistry center. Founder Dr. Jonathan Penchas is a leading Houston Prosthodontist and denture expert.
Dr. Penchas says that "over my twenty years of denture treatment, I've found that people really don't have a guide to understanding what dentures are all about - so I wrote the simplest dental book possible."
Available as an e-book in most online book stores, the book provides information in a short, clear, and simple language. Topics such as types of dentures, how to live with dentures, how to take care of dentures and what to eat with dentures are all covered. Ample illustrations explain the basic concepts.
In the past, people with dentures had to rely on advice from friends or from their dentist. With less time to interact with patients, dentists never really were able to explain all of the information. Denture is a very difficult prosthesis to learn to use, and it was left for people to "figure it out" on their own.
With the "dentistry made simple" series of books, and especially the denture book, the average reader can read this book in less than an hour. It allows for a better understanding of both denture owners, prospective owners and their surrounding environment.