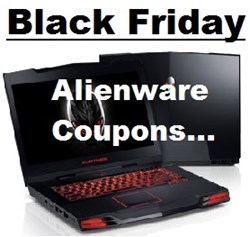 Gamers can save $100 off Alienware laptops and desktops by using these Black Friday coupons.
(PRWEB) November 29, 2013
Several new Alienware Black Friday coupons have been listed on the Bizwaremagic.com site, which runs a comprehensive online Laptop Buyer's Guide. As an ongoing feature of this guide, Bizwaremagic.com lists all the latest deals and coupons from major computer manufacturers such as Alienware, Dell, HP, Toshiba and many more. Alienware gaming products are a major part of this guide and subscribers appreciate receiving current computer information along with the latest online discount bargains.
Included in this Black Friday offering are deals on gaming laptops sporting 4th generation Intel i5 and i7 processors. Alert shoppers can save $170 off Alienware 14 gaming laptop with 4th generation Intel Core i5 processor for $929.99 or get $100 off Alienware 14 gaming laptop with 4th generation Intel Core i7 processor and 1080p display for around $1150.
Gamers can also take advantage of these online coupons and save $100 off the Alienware X51 compact gaming desktop with 4th generation Intel i3 processor for around $600. Most holiday offers come with free shipping but see the official Alienware site for all terms and conditions. Remember, these sale items are usually limited and may be discontinued when quantities run out.
Alienware has achieved a well established name for building high-end, high-performance gaming machines and was acquired by Dell in 2006. While many loyal gamers expressed concern about this acquisition, Dell has kept the brand alive and has actually brought prices down. However, top quality gaming rigs do come at a premium, and a fully maxed system can still set one back three or four grand. With prices so high, getting any kind of discount is welcomed by Bizwaremagic's subscribers and new Alienware coupons are constantly being added to the site.
This special updated Alienware Coupons/Discounts page can be found here: http://www.bizwaremagic.com/alienware_coupons_discounts.htm or check out these top rated gaming laptops: http://www.bizwaremagic.com/best_gaming_notebooks.htm All products/companies mentioned above are registered trademarks of their respective owners and companies.