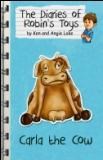 Leicester, UK (PRWEB UK) 27 November 2013
Carla the Cow tells the story of an unhappy cow who is inconsiderate to those around her. Carla learns a valuable lesson about the importance of showing respect to her peers in order to make new friends.
This charming family tale will help children easily understand the repercussions of being rude to others and that politeness will encourage friendships and build happiness.
Written by award-winning authors Ken and Angie Lake, The Diaries of Robin's Toys was nominated for the 2013 Best Children's Series Award by Snazal.
The books follow the tale of Robin – a little boy whose magical second-hand toys come alive to tell their own stories, teaching him important life lessons.
Carla the Cow, along with all 10 books included in the Diaries of Robin's Toys box set is ideal for young readers aged seven and up. The discounted 10-book set is now available through Snazal Books at http://www.snazal.com.
About Snazal
Since 2006, Snazal has grown to become a worldwide book distributor, supplying independent bookstores and other small business venues with specially selected, handpicked titles. Snazal offers more than 500,000 books on a variety of topics, ranging from children's interests and history, to educational books and trade publications. To date, this UK-based supplier has worked with prestigious distributors and publishers to serve more than 1 million customers.