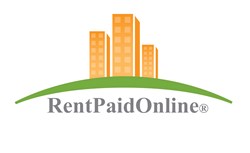 We have a world-class product and world-class service and now we have the world-class look to go with them. - Steven J. Foster, Chief Business Development Officer, EVP, RentPaidOnline®
Clearwater, Florida (PRWEB) November 06, 2013
RentPaidOnline® will reveal its new identity that is geared towards a universal brand recognition for property managers and residents, including an updated logo, this week. The new logo is the first significant change towards implementing their international master-brand strategy.
"We have a world-class product, world-class service and now we have a new world-class look," said Steven J. Foster, Chief Business Development Officer - EVP, RentPaidOnline®, a service of EFX Financial Services. "This new look, from the logo to the colors, establishes a fresh optic that represents RentPaidOnline's devotion to Property Management Companies and their residents both domestic and international and distinctively portrays RPO as the definitive source for rent payments through our mobile channels and online."
RentPaidOnline® now employs a master-brand approach with all business units, products and services united under a single logo. "We are excited about our new brand. It reflects our rapid growth and the resulting international expansion," said Nick Cloonen, Director of Products, RentPaidOnline®, a service of EFX Financial Services.
About RentPaidOnline®
RentPaidOnline's technology includes a real time web-based and mobile platform for electronic check, credit cards, and cash payments for the property management industry. RentPaidOnline's parent company EFX Financial Services Inc. was founded in 2006 and processes over one billion in transaction volume annually throughout the United States and Canada. The key advantages of the RentPaidOnline service are their multiple, innovative, one of a kind payment channels and their "think outside the box" mentality to ensure their clients are always heard first and foremost.
EFX Financial Services corporate office is located in Clearwater, FL. EFX Financial Services also has additional offices in Jacksonville, FL., Atlanta, GA., Dallas, TX., and Philadelphia, PA.
For more information about RentPaidOnline, contact us at 855.PMY.RENT(769-7368).