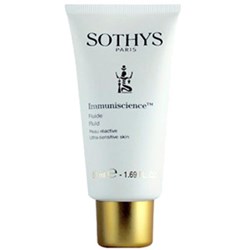 Sothys Immuniscience Fluid is a light moisturizing cream for either day or nighttime use. Not only does Sothys Immuniscience fluid work to heal sensitive skin.
Anaheim, CA (PRWEB) November 16, 2013
DrSkinSpa.com provides top shelf, anti aging skin care products through their e-commerce web site. This skin care product site delivers youthful solutions formulated from naturally derived substances that have been scientifically tested and proven to be effective for a wide variety of skin care needs. They carry a huge supply of consumers' skin care favorites. The latest addition to the DrSkinSpa.com family of products is Sothys Immuniscience Fluid.
Sothys Immuniscience Fluid is made for ultra-sensitive skin that may become inflamed, reddened, or irritated by other moisturizer for face types of products. The Sothys Immuniscience fluid ingredients are derived from plants and include a patented Photonyl complex. Sothys Immuniscience fluid's Photonyl complex contains natural cellular substances and biotechnological innovative amino acids. Sothys Immuniscience Fluid Photnyl complex delivers energy, protects the skin's working cells, particularly the Langerhans and keratinocytes (immunity-giving cells). Photonyl additionally give free radical protection, an important component to avoiding skin damage.
Sothys Immuniscience Fluid calms sensitive skin as it also softens it and provides added moisture for younger looking skin. Other ingredients included in Sothys Immuniscience fluid include CentauriumExtract, a botanical that relieves inflamed skin by reducing skin warmth and redness. The Centaurium Extract in Sothys Immuniscience Fluid is a powerful anti-inflammatory agent; a much-needed addition to any moisturizer for face complexions with sensitive skin.
Osmocide Extract is also included in Sothys Immuniscience Fluid. This glycerin gel calms and soothes the skin as it also attracts and keeps in moisture. Siegebeckia Extract is a plant with additional anti-inflammatory powers to calm sensitive skin. The Titanium Oxide in Sothys Immuniscience Fluid filters out sunlight to further protect delicate skin types.
The above ingredients are the main active ingredients contained in Sothys immuniscience fluid. Other components of this product include shea butter, arginine, and Titanium Dioxide in addition to other effective ingredients.
The main goal of Sothys immuniscience fluid is to strengthen the skin's immune system and make skin less sensitive. Sothys Immuniscience Fluid contains no fragrances or dyes and is hypo-allergenic.
Rachel Goodyear, the esthetician at DrSkinSpa.com, says, "Sothys Immuniscience Fluid is a light moisturizing cream for either day or nighttime use. Not only does Sothys Immuniscience fluid work to heal sensitive skin and increase its overall health, but this product can also be used as an immediate topical aid for temporary reactions that redden and irritate skin."
DrSkinSpa.com has attracted loyal customers from all over the world. This global web store is constantly being praised for providing the most effective anti aging face products that consumers are actively seeking. Their products for anti-aging have garnered clinically proven results. DrSkinSpa.com's skin care offerings come with a 14-day, money-back guarantee in addition to a unique 120% price protection program, free shipping, and complimentary consultations with an on-site Esthetician. DrSkinSpa.com is owned by Crescent Health Center and is based in Anaheim, California.