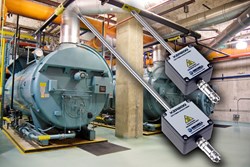 Ely, Cambridgeshire (PRWEB UK) 13 November 2013
The new XZR200 Oxygen Analyzer from Michell Instruments offers users added peace of mind with a built-in early warning system that alerts operators of any faults with the unit, and is the first in Michell's range to do so.
The technology that makes this possible is a 3.3 V DC logic output from the sensor, which acts as a 'heartbeat,' and enables operators to check on the health of the sensor preventing incorrect measurements.
The XZR200 sensor is highly reliable with up to 7 years life expectancy in clean gases and up to 1 year in very aggressive conditions such as coal fired combustion.
The performance of the XZR200 is paired with an affordable price. It is capable of measuring percentage oxygen to better than 1% of span (or 0.5% O2) with ranges of 0-25% and 0-100% available. The easy-to-install analyzer offers four configuration options, with two choices of probe length and two temperature ranges (+250°C/+400°C). The lower temperature range (up to +250°C) is suitable for low-temperature applications such as food and drink packaging, while the higher temperature range of up to +400°C serves combustion control.
The product has been designed to integrate seamlessly into existing systems, as no specialist software is required and the RS232 output can be accessed via a PC.