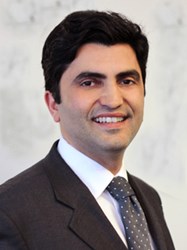 Botox is actually quite effective at treating the visible effects of Bell's palsy, as well as calming hyperactive muscles in patients experiencing synkinesis.
Beverly Hills, CA (PRWEB) November 08, 2013
An article published October 9, 2013, on CNN described the recent treatment of a patient living with permanent Bell's palsy and Type I diabetes with IntelliCell Biosciences, Inc.'s stromal vascular fraction cells. Stromal vascular fraction cells (SVFC) are developed from adult autologous vascular cells derived from blood vessels. Babak Azizzadeh, MD, FACS, renowned Bell's palsy and facial paralysis surgeon, says this patient's experience may bring hope to others with permanent Bell's palsy.
"Bell's palsy is a condition brought on by the activation of a virus that affects the facial nerve and causes facial paralysis on one side of the face. Generally, anti-viral and steroid medication will help the condition resolve over time, but some patients do experience permanent facial paralysis. For those patients, surgery is usually the only effective treatment," explained Dr. Azizzadeh.
The patient who was treated with the SVFC had undergone many unsuccessful treatments in the past, and was eventually given the new stem cell applications. He received two treatments 6 months apart. The patient experienced complete Bell's palsy recovery and--as an unintended benefit—improvement of his diabetes condition. IntelliCell Biosciences is hopeful that its product will be revolutionary for the treatment of medical conditions that don't respond to traditional therapy, particularly Bell's palsy.
"It is important to address the side effects of permanent facial palsy in order to prevent the development of other conditions. For instance, patients with facial paralysis generally lose the ability to completely close the eye. If left untreated, this can cause severe eye damage. Currently, there are surgical options for treating incomplete eye closure, as well as facial reanimation surgeries to improve the patient's appearance," said Dr. Azizzadeh.
Dr. Babak Azizzadeh is a highly regarded facial plastic and reconstructive surgeon whose facial nerve expertise has made him one of the most sought-after facial paralysis surgeons in the country. Depending on the individual's condition, Dr. Azizzadeh can perform a variety of innovative procedures to improve quality of life for patients with permanent facial paralysis, including cross facial nerve grafts, gold eyelid weights, and even Botox injections.
"Botox is actually quite effective at treating the visible effects of Bell's palsy, as well as calming hyperactive muscles in patients experiencing synkinesis. For patients living with long-term Bell's palsy, though, facial reanimation surgery may be an option," explained Dr. Babak Azizzadeh.
Since his extensive and prestigious training at Harvard Medical School, Dr. Azizzadeh has helped hundreds of people with varying degrees of facial paralysis. Dr. Azizzadeh is the director of the Facial Paralysis Institute and one of the leading figures in the field of Facial Nerve Paralysis. Dr. Azizzadeh has been recognized for his work on several occasions, and has appeared on the Oprah Winfrey Show and countless other media outlets. Dr. Azizzadeh is trained in Facial Plastic and Reconstructive Surgery, as well as Head and Neck Surgery, giving him a distinctive insight into facial nerve function and facial aesthetics. Dr. Azizzadeh also has extensive training in microsurgical facial reconstruction, which is often required for the treatment of people who are born with facial paralysis.
Contact the Facial Paralysis Institute at (310) 657-2203 for more information.