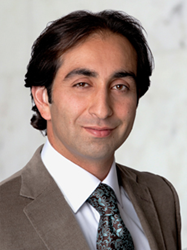 I see many patients who have been living with undiagnosed, or misdiagnosed, hyperparathyroidism for years
Beverly Hills, CA (PRWEB) November 15, 2013
In a new article on ParathyroidMD.com, "Top 3 Parathyroid Myths," world-renowned parathyroid surgeon Babak Larian, MD, FACS, dispels some of the most common myths associated with the parathyroid glands. The parathyroid glands are four tiny glands located at the base of the neck near the thyroid gland that control the level of calcium in the bloodstream. The first, and most common myth is that the parathyroid glands are related to the thyroid gland.
"It is easy to understand why people would think this since parathyroid does have thyroid in the name. However, this is just referring to the location of the glands and the fact that they are next to the thyroid. They do, in fact, have completely different functions within the body," explained Dr. Babak Larian.
Another common misconception is that a parathyroid disorder can clear up over time on its own. The reality is that the only effective treatment for a parathyroid disorder is surgical removal of the dysfunctional gland. Dr. Larian says it is important for people to be aware of the signs and symptoms of parathyroid disease so it can be caught and treated early.
"I see many patients who have been living with undiagnosed, or misdiagnosed, hyperparathyroidism for years. It is important that this condition is treated surgically soon after diagnosis is confirmed, as the disease will cause osteoporosis if left untreated," said Dr. Larian, Director of the CENTER for Advanced Parathyroid Surgery.
The removal of abnormal parathyroid glands is crucial to maintaining bone health. It is also crucial that patients with a parathyroid disorder seek surgery from a parathyroid specialist. Dr. Larian is renowned for his minimally invasive parathyroid surgery techniques in which he removes the dysfunctional gland through a tiny incision during an outpatient procedure.
"By using advanced imaging technology before surgery to locate the problem gland, I am able to make one small incision and keep the amount of time the patient is in surgery to a minimum. And with intra-operative PTH testing, I can ensure the surgery was successful before the patient leaves the operating room," explained Dr. Larian.
Dr. Babak Larian, the Director of the CENTER for Advanced Parathyroid Surgery in Los Angeles, is a highly experienced and reputable board-certified head and neck surgeon. Dr. Larian is nationally renowned for his expertise in minimally invasive surgery techniques involving parathyroid disorders and is considered a pioneer in his field. Currently, Dr. Larian holds the prestigious honor of Chief of Head and Neck Surgery at Cedars-Sinai Medical Center and Assistant Clinical Professor of Surgery at UCLA.
For additional information regarding Dr. Larian and the various services offered at the CENTER for Advanced Parathyroid surgery, please visit http://www.parathyroidmd.com or call 310-461-0300.