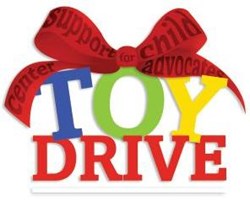 Add more joy to your holiday season - donate toys and gift cards to the Support Center for Child Advocates. - Dolores M. Miller
Philadelphia, PA (PRWEB) November 12, 2013
Dolores M. Miller, poet and author of the Beautiful Warrior writings, will be helping the Support Center for Child Advocates to collect over 1000 toys and gifts for neglected and abused children in Philadelphia during this holiday season.
Child Advocates Holiday Toy Drive Wish List - Gifts for Boys & Girls birth - 21
Gift cards are very much appreciated for all ages. The most useful denominations are $25 gift certificates, which can be given singly or in combination to optimally help children and families. Some of the most useful multi-purpose certificates include those from these merchants:

Department and clothing stores – CVS, Champs, Claire's, Express, Five Below, H&M, JC Penney, Kmart, Kohl's, Lane Bryant, Marshall's, Old Navy, Pacific Sun, Ross, Sears, Target, T.J. Maxx, Wal-Mart, Foot Locker, etc.
Electronics and sporting goods – Best Buy, Game Stop, Modell, Dick's Sporting Goods, Sports Authority, etc.
Entertainment – AMC, FYE, Regal Cinemas, etc.
Food – Ice Cream Parlors, Restaurants, Fast Food, Grocery Stores, etc.
Other – Bath & Body Works, Barnes & Noble, etc.
Gift cards from Visa, MasterCard and American Express are also most welcome, as they can be used almost anywhere. Please note dollar amount on each card.
Other Popular Gift Ideas

Alarm clock and clock radio*
Art supplies
Costume jewelry
CD player – personal size* or i-Pod
Disposable camera
Dolls (especially African American dolls)
Games - electronic, hand-held, & board*
Lego blocks
Photo album, journal
Playing cards
Puzzles
Sports equipment
Toiletries
Toys (all ages)*
Wallets and purses
Watch
Warm Clothing for infants through teenagers
*If the gift requires batteries, please attach an unopened packet.
** We do not accept candy or weapon themed toys.
No time to shop? A check to Child Advocates will help "fill in" the gap of needed gifts.
Please bring new, unwrapped gifts to the Toy Drive site located at:
1880 JFK Boulevard, Philadelphia.
Kindly drop off all gifts between December 1, 2013 and Wednesday, December 18th so that the Holiday Helpers can organize the presents for delivery on Saturday, December 21st.
For more information, contact toydrive(at)advokid(dot)org or 215-546-9216
"Where do you spend your time and your treasure?" - Dolores M. Miller