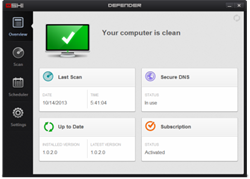 OSHI Defender Removes Malware and Provides Safe Browsing for Windows PC Users.
California (PRWEB) November 04, 2013
Today, OSHI Software, a developer of security solutions for Windows-based computing systems, announced the release of OSHI Defender, an anti-malware application that automatically scans and cleans PCs to remove viruses and other malware threats.
OSHI Defender is designed with automatic updating and user-defined scheduling that allows the program to easily scan, clean, and protect systems. The product also allows users to surf the Web safely by using OSHI Software's secure DNS servers to prevent criminals from redirecting browsers to fake websites.
"One of the biggest frustrations for PC users is the constant threat of viruses and malware," said Eugene Vezne of OSHI Software's engineering team. "With OSHI Defender, we've developed a computer security solution that is easy to use but highly effective and reliable in combating these threats. Our newest product is another important step in our mission to thwart spam, fraud, denial of service attacks, phishing, and other malicious activities that threaten computer users every day."
A key to advancing that mission is OSHI Defender's departure from traditional antivirus products by not using virus signatures as a basis for malware protection. Many popular virus protection programs use virus signatures as a basis for detection and removal, but this approach is often inefficient and is highly vulnerable to 0-day or emerging malware threats. OSHI Defender uses advanced technology and continuous monitoring of new threats to deliver greater computer security than traditional solutions.
As with all OSHI Software Solutions, OSHI Defender features a simple, minimalist interface that is designed to make the program accessible and easy to use for virtually any computer user.
OSHI Defender is available as a subscription service with a full year priced at $19.99 USD. The product is offered with a 30-day money back guarantee. Users can download and purchase OSHI Defender by visiting http://www.oshidefender.com.
About OSHI Software
OSHI Software is a team of software engineers and security experts that develops computer security solutions as a subsidiary of Aveas Limited. Its researchers continually studies new rootkits and spyware programs to provide customers with innovative detection programs that ensure the safety and reliability of Windows-based computers. OSHI Software is also the developer of the OSHI Unhooker and OSHI Cleaner solutions. OSHI Unhooker is a program designed to detect and remove malicious hooks that often elude normal detection methods, hide their presence in systems, and help hackers gain access to compromised computers. OSHI Cleaner is a file cleaning and computer optimization tool that is designed to automatically remove unwanted computer files, free up hard drive and disk space, help PCs run faster, and improve system stability.
For more information, please visit http://www.oshidefender.com and http://www.oshisoftware.com.