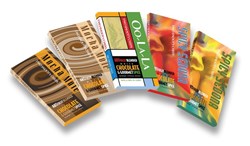 "Coffee and chocolate-- the inventor of mocha should be sainted." - Cherise Sinclair
Port Orchard, Washington (PRWEB) November 05, 2013
Incorporating some of their most popular spice blends, Two Snooty Chefs have launched a new line of gourmet chocolate bars designed to be a multi-sensory experience.
Available in white, milk, and dark chocolate, the artisan confections are a careful blend of sweet and spicy. Each bar is made with the finest quality chocolate, hand-tempered, and distinctively packaged with fun quotes about chocolate hidden inside.
Mocha Mole' is a rich mixture of our Ancho Chile, a special cocoa blend, exotic layers of herbs and spices with a hint of coffee. We offer the Mocha Mole' in a choice of dark or milk chocolate.
Spicy Sedona brings warmth to the body with the chipotle spice, with complex layers of herbs and spices, finished with cilantro and lime to refresh the palette. We offer the Spicy Sedona in a choice of dark or milk chocolate.
Oo-La-La is so unique we had to give it that name. The herb and spice flavored white chocolate will satisfy any chocolate connoisseur looking for that surprising flavor profile. You taste the sweetness of the premium white chocolate, then the herb combination and finished with a hint of curry.
Two Snooty Chefs is a premier gourmet seasonings company based in Kitsap County, Washington.