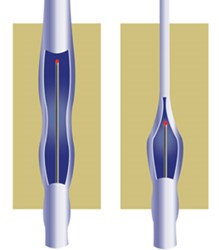 Varicose veins can have a significant, negative impact on a person's quality of life.
Hamilton Square, NJ (PRWEB) November 01, 2013
The Comprehensive Vein Treatment Center is launching a new social media campaign to educate the public about how to safely eliminate varicose veins. According to the Hamilton, NJ Center, there are multiple alternative treatments for varicose veins all of which can be safely performed without general anesthesia in an outpatient setting.
Leading vein doctor, Dr. Imtiaz Ahmad states, "With today's new technologies, there is no reason why men and women with bulging vein problems should suffer from the disfiguring and disabling side effects of this highly treatable condition." Varicose veins result from damage to the one-way valves that normally assist in the flow of blood from the legs back to the heart. This damage allows backflow of the blood into the leg veins. The increased pressure on the vein walls causes them to bulge and results in what are called varicose veins.
In October, Dr. Ahmad and his staff at the Comprehensive Vein Treatment Center will be using social media including Facebook and Twitter to encourage the public to seek timely varicose vein treatment.
For more information, please visit:
http://www.cvtc.net/
1-888-VEIN-DOC
About the Comprehensive Vein Treatment Center
Under the direction of Dr. Ahmad, a Board-Certified vascular and thoracic surgeon, the Comprehensive Vein Treatment Center provides the highest level of professional care to each of their patients. Dr. Ahmad makes certain that each patient receives a thorough vascular evaluation and makes individualized recommendations based on each patient's history, physical exam, ultrasound findings and personal needs. Dr. Ahmad specializes in vein disease treatment and is highly skilled and experienced in all vein treatment modalities including sclerotherapy, radiofrequency ablation, endovenous laser therapy (EVLT) and microphlebectomy. In addition, he offers treatment of various other conditions associated with aging including rosacea, age spots, spider veins, sun damage and sun spots, acne scars and hyperpigmentation.