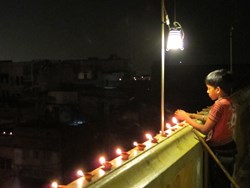 The Threads of Awakening Journey in India is a small group tour in northern India emphasizing close contact with Tibetan sacred art and the artists who make it.
Oxnard, CA (PRWEB) November 05, 2013
Applique Thangka artist Leslie Rinchen-Wongmo leads a small group tour in northern India emphasizing close contact with Tibetan sacred art and the artists who make it. The three-week tour starts on November 7, 2013. This year eight women, ranging in age from 40 to 85, will make the journey.
Rinchen-Wongmo learned the ancient craft of Tibetan applique in apprenticeship to Tibetan masters in Dharamsala, India. The silk satins and brocades which make up these sacred mosaics of silk are woven by Muslims in Varanasi (also known as Benares), a Hindu holy city on the River Ganges.
The Threads of Awakening Journey is built around these two sacred nodes of Dharamsala and Varanasi. And the spaces in between are filled with sites and experiences illuminating the breadth of India's cultural and spiritual diversity.
Devon Chapman of Sandpoint, Idaho, an avid traveler and participant in the 2012 Journey said of her experience, "So many times when I travel, I feel like I'm skimming the surface. This trip was total immersion. For that I am so grateful."
Barb Edie of Winnipeg, Canada, said: "I would recommend this trip to anyone interested in personal and/or spiritual growth."
The tour begins in New Delhi, capital of India and its northernmost metropolis.
From there, the group of eight women heads north into Himachal Pradesh, at the foothills of the Himalaya to encounter the Tibetans settled in its lush hills. Monasteries, sacred caves, holy lakes, and the Dalai Lama's home-in-exile fill this part of the journey.
Then out of the mountains and into the plains, the group will visit the Sikhs' Golden Temple, then fly east to Varansai.
At ghats along the sacred Ganges River, pilgrims and children bathe, brilliant silk saris are laundered and laid out to dry, water buffalo roam, and Hindus fortunate enough to die in this holy place are cremated. Varanasi is also the center of silk weaving. Sumptuous satin and rich gold brocades are made here, in the Muslim enclave of the old city.
Less than 10 miles away from the bustling city lies the quiet village of Sarnath. Here, the group will step into Buddhist history at the Deer Park where the Buddha taught the Four Noble Truths.
No visit to India would be complete without a sunrise visit to the Taj Mahal. This pilgrimage to beauty will conclude at that marble monument in Agra, before flying home satiated and grateful on Thanksgiving Day.
Readers can follow the group's adventures at http://journeyinindia.tumblr.com/.
And more information about the trip is available at http://threadsofawakening.com/journey.
About Leslie Rinchen-Wongmo:
Leslie Rinchen-Wongmo is an American master of Tibetan appliqué and an internationally known teacher of transformative sacred art. The only westerner trained traditionally in India, she is featured in the documentary, "Creating Buddhas: the Making and Meaning of Fabric Thangkas" and is passionate about the preservation and evolution of this cultural tradition.
Through the Stitching Buddhas Virtual Apprentice Program, she teaches silk thangka making internationally -- giving creative, spiritually oriented women a meaningful way to integrate their paths.
His Holiness the Dalai Lama gave his blessings to Rinchen-Wongmo's work and encouraged her to use her sacred art skills to inspire people across religions and cultures. This is her second small group tour in India.
Contact Information:
Leslie Rinchen-Wongmo,
Artist & Teacher at Threads of Awakening,
Buddhist Textile Art for Sacred Spaces
805-626-8272
info (at) threadsofawakening (dot) com
http://threadsofawakening.com