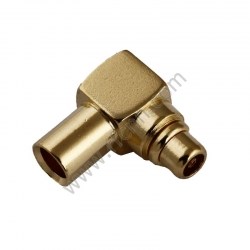 (PRWEB) November 01, 2013
Recently, RFcnn.com, a famous company of connectors, has proudly added new items to its MMCX coaxial connector collection. Along with that, the company has launched a special offer on its high quality MMCX coaxial connectors to show appreciation to its customers worldwide.
The CEO of the company states, "We are excited to release our new products. Now, all the new MMCX Coaxial Connectors are available at discounts, up to 30% off. And the promotion is valid for a limited time. Those who need high quality coaxial connectors at affordable prices, please seize this opportunity. We have updated our website, so you can visit it to find your ideal connectors now."
According to the CEO, the MMCX Coaxial Connectors from RFcnn.com are excellent connectors. They can carry microwave-frequency signals in a good way. RFcnn.com is now preparing for another new range of MMCX Coaxial Connectors to meet the great demand in the current market.
It is said that the nice MMCX Coaxial Connectors has been reported by the local newspaper. The company is trying its best to make everything simple. Its website has now become a one-stop platform for customers from all over the world.
About RFcnn.com
RFcnn.com is an online store of Zhenjiang Fourstar Electronics Co. LTD, which is a China based company that intends to offer customers top quality products at the lowest possible prices. Customers can try the company's products through sample orders with a long-term contract. Most the customers will come back soon after their first deals.
More details about the company's high quality connectors can be found at: http://www.rfcnn.com/MMCX-Male-Right-angle-Crimp-For-RG405-PCB-RF-Connector-144.html.