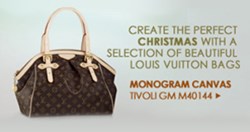 (PRWEB) November 15, 2013
Every bag lover has their preference, but most agree: When it comes to style and status, few designers have created a niche in the world of upscale fashion like Louis Vuitton, whose high-end purses, wallets and large bags have become a fashion favorite both for their superior craftsmanship and their eye-catching beauty.
While the phrase "So Long As It's Black" may lead shoppers to believe all items featured will be in black, this is not the case: In addition to Vuitton and Dior, luxuryscloset.com's promotion also features bags by Chloe handbags, Marc Jacobs handbags and Michael Kors handbags in an array of colors, sizes and styles.
luxuryscloset's latest event is just one of several major promotions from the popular online reseller in the past several weeks, as luxuryscloset.com held both its Labor Day Weekend sale and its animal print campaign, "Walk On The Wild Side" last month. The successful Labor Day Weekend sale offered savings of up to 25% off all designer clothing and an additional 15% off all designer shoes with free shipping on orders of $200 or more, as well as 10% off all designer handbags, one of fashion's greatest investments, noted luxuryscloset.com co-founder David Muller: "Designer handbags typically do not go out of style, which is good because they can last for many years."
luxuryscloset.com's hand bag promotion could not have arrived at a better time, as around the globe, officials continue to crackdown on counterfeit luxury goods.
At Luxuryscloset.com, an online luxury resale store with over a decade in the business, shoppers can choose from an array of designer items that include handbags, shoes, jewelry, accessories and watches. Their clients, which range from everyday bargain hunters to high profile celebs, are guaranteed 100% authenticity on every item in stock, which store co-founder David Muller says equals guilt-free shopping.
Luxuryscloset.com loves high-end fashion, and believes finding a high quality, classic piece should be an easy, enjoyable -- and most importantly -- hassle-free shopping experience. For the finest in cheap Louis Vuitton handbags, Prada, Gucci handbags and more, visit RDR online at http://www.luxuryscloset.com.