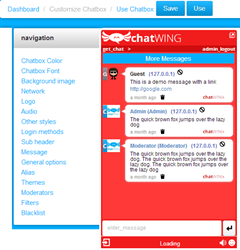 New York, NY (PRWEB) November 03, 2013
In Chatwing's blog series, the development team has emphasized some of the famous topics that are considered 'hot items.' These topics are shortlisted according to their popularity and approximated subscribers. Chatwing's chat software developers are certain that the strategic usage of these topics can help bloggers gain real-time web traffic.

Writing styles. Wattpad writers and users are fond of sharing their writing styles with each other. Some are even professional enough to offer mentoring services.
Popular books. Since Wattpad is all about writing, users have also been sharing their favorite books and book series. Popular books such as Harry Potter, Pendragon, and Percy Jackson have been the premise of several topics. Chatwing chat app developers believe that these popular books can spark several discussions in different Wattpad blogs and websites.
Writers' Clubs. Joining clubs has been one of the best ways to promote works in Wattpad communities. This is why Wattpad beginners have been looking for new clubs to join. The Chatwing chatroom can be used by people to look for clubs to join. Club owners can also rely on the marketing and connectivity potential of the shoutbox.
Chatwing.com will continue monitoring Wattpad users and communities. By introducing the latest chat app, the company has extended its help to Wattpad beginners and other web users as well. Ever since, Chatwing is dedicated to the improvement of the web chat premise.
About Chatwing.com
Chatwing.com specializes in the new field of website chat software. Over years, the Chatwing team has introduced live chat widget for hundreds and thousands of blogs. The Chatwing application bridges people from many parts of the world, creating global synergy through the Internet. The shout box can be installed in just seconds, and it can be used for varying purposes such as leisure and Internet marketing. It also allows a user to customize the size, color, and name of the widget.