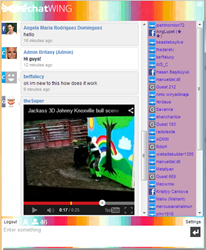 Cambridge, MA (PRWEB) November 04, 2013
In order to raise awareness regarding the newest version of the Chatwing chat software, the company's developers are conceptualizing several viral videos that will be launched in Youtube. These videos are expected to showcase blogging tutorials, current events, cyberspace trends, and professional marketing advice.
"Back then, we are limited to creating Chatwing chat software tutorials alone. We realized that people need more materials, now more than ever. So, we started conceptualizing new viral videos." Mike Diamond said, lead developer for Chatwing chat software. Additionally, Mr. Diamond also spearheads the viral video campaign. "We have tons of research materials and data about this newest initiative. Our goal is to target web users and help them gain the communication leverage of Chatwing chat app."
Premium services are the cream of the crop of Chatwing's latest app. They will also be included in the viral videos, so that users and clients will understand their key functions. Some of the premium services included in the new version is subheader, faster login process, new avatars, and Chatwing chat app logo removal.
The viral videos are expected to hit Youtube communities in a month or two. These videos reflect Chatwing's dedication to the betterment of website chat and global connectivity.
About Chatwing.com
Chatwing.com specializes in the new field of website chat software. Over years, the Chatwing team has introduced live chat widget for hundreds and thousands of blogs. The Chatwing application bridges people from many parts of the world, creating global synergy through the Internet. The shout box can be installed in just seconds, and it can be used for varying purposes such as leisure and Internet marketing. It also allows a user to customize the size, color, and name of the widget.