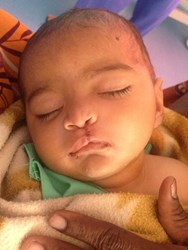 "It was the most incredible experience."
(PRWEB UK) 5 November 2013
Twenty-three members of Northern Cleft Foundation travelled to India this Autumn to carry out the desperately needed cleft palate surgery on Indian children and adults. The team included surgeons, anaesthetists, theatre recovery and wardens. They spent 7 long days operating on 87 patients to dramatically improve their lives.
A cleft palate is not a very common occurrence in the UK so it may not be so well understood, but it can seriously effect a person's day to day living, making eating, breathing and swallowing difficult. A simple procedure can solve that. For those who can not afford this surgery, the Northern Cleft Foundation are saviours.
Shawcity provided Northern Cleft Foundation with a MultiRAE to firstly detect the correct oxygen gas supplies and secondly to identify which anaesthetic agents were being used.
Dr Gemma Mullen from the foundation said, "It was the most incredible experience - very tiring but so worth while and rewarding."
To learn more about the charity, please visit their website.
To see some of the photographs taken, please visit the Shawcity Blog.
Finally, to learn more about the MultiRAE or other products, please visit the Shawcity website.