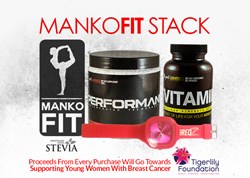 (PRWEB) November 06, 2013
Masiel "MankoFit" Arias, the biggest name in yoga and fitness on social media, and SHREDZ® Supplements, the fastest growing brand in the health and fitness industry, are announcing the release of a new stack, inspired by MankoFit and specifically created to maximize strength and endurance as well as promote health and wellness.
The MankoFit Stack combines SHREDZ® PREWORKOUT Performance, the most effective preworkout on the market, with an 8:1:1 BCAA ratio and electrolyte blend with VITAMIN Z, the immune boosting super vitamin comprised of ingredients like Echinacea, African mango extract and lychee fruit extract. Whether doing yoga, weight training or a fitness competition, SHREDZ® Performance preworkout gives a boost of energy to muscles when they need them most, to help push the body past its limits. VITAMIN Z cleanses the body of toxins and the lactic acid that builds up in the bloodstream after workouts.
It was important to MankoFit that her namesake stack be something that she can be proud of and use on a daily basis.
"I have transformed my body and my life through fitness, so I wanted to make sure that my signature stack is something that truly embodies my persona. Intensity and healthy living is definitely two things that I stand by."
The SHREDZ® MankoFit Stack retails for $120 and is available at http://www.MankoFit.com.
SHREDZ®, the fastest growing name in the health and fitness industry, was founded in 2011 and is headquartered in Jersey City, N.J. The company is led by co-founder and Chief Executive Officer Arvin Lal. SHREDZ offers maximum strength nutraceuticals, including its flagship product, SHREDZ® Maximum Strength Fat Burner. The entire product line is manufactured and warehoused in the United States and distributed throughout more than 50 countries. For more information, visit http://www.shredz.com.