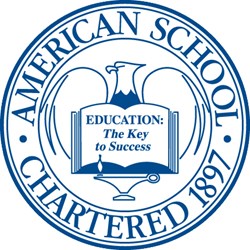 Lansing, IL (PRWEB) November 04, 2013
The American School will exhibit at the All Ohio Counselors Conference on November 6-8 at the Hilton Easton in Columbus. The conference will provide an opportunity for school counselors in Ohio to meet with American School personnel and learn how the American School can benefit their students. Counselors can visit the American School at table 7 from 6-7:30 p.m. on Wednesday, November 6; 8 a.m.-6 p.m. on Thursday, November 7; and from 8 a.m.-12 noon on Friday, November 8.
One possible benefit is the American School's innovative Independent Study Program, which allows students to purchase individual accredited courses for credit recovery or enrichment purposes. The School also offers its own accredited high school diploma programs for students who may wish to be homeschooled or are at risk of dropping out of their local high school.
The American School has been a leader in distance education since 1897 and today offers more than 80 courses in paper-based and online formats. For more information, visit http://www.americanschool.org or call 866-260-7221.