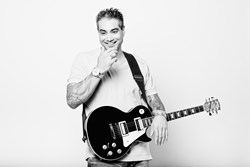 Fort Lauderdale, FL (PRWEB) November 01, 2013
Professional musician and teacher Dyce Kimura is proud to announce Skype ukulele lessons for students of all ages. Available to musicians around the globe, Kimura is excited to share his expertise and experience with others. With a 20 percent discount for the first lesson with the mention of this article, Kimura aims to make music lessons as accessible and affordable as possible.
"Technology has changed the way that we interact with the world around us," says Kimura. "Now students have the opportunity to study with any music teacher they want." Though based in Fort Lauderdale, Kimura has been able to teach students both throughout the nation and around the globe thanks to his Skype guitar lessons. Online music lessons have become increasingly popular in recent years, especially since students no longer have to rely on local resources, which can sometimes be limited when it comes to music.
As a professional musician, Dyce Kimura is extremely active in studio sessions, live performances, and church music. Kimura's involvement in today's music scene is what distinguishes him as a music teacher. "He gives such a fresh perspective because he's still active in the industry," says one student. "Sure, we work on technique and basic music theory, but we focus on practical things for musicianship today."
Dyce Kimura has been recognized for his Skype guitar lessons. Recently announced as a finalist in the Truefire Next Top Guitar Instructor Contest, Kimura has garnered attention as one of the most recognized instructors in the world. "I'm really passionate about my craft and sharing it with others, so it's an honor to be recognized," says Kimura.
Skype guitar lessons with Dyce Kimura have been extremely popular among students because of convenience and affordability. Instead of driving to the nearest music school or studio for lessons, students can simply turn on their computer and webcam for quality lessons in their living room. The utilization of technology has given Kimura the ability to interact with students around the world who have a hard time finding quality teachers in their local communities.
While guitar has been a popular offering, Dyce Kimura is excited to satisfy the growing demand for ukulele lessons. With the mention of this article, students can receive 20 percent off their first ukulele lesson and learn more about this unique instrument.
Dyce Kimura is a music teacher in Fort Lauderdale who offers lessons to students around the globe via Skype.
Contact:
786-457-3687
http://www.skypeguitarlessonsonline.com/contact-dyce/