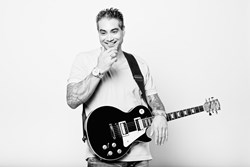 Fort Lauderdale, FL (PRWEB) November 07, 2013
Skype guitar lessons teacher Dyce Kimura is excited to announce exclusive savings in an effort to make music lessons more accessible and affordable. With the purchase of the beginner package of Skype guitar lessons, new students will only pay half price on their first lesson.
"In today's economic climate, families and students are watching their pocketbooks more closely," says Kimura. "Hopefully these deals will help ease the strain and make sure everyone has the opportunity to learn music."
Aside from his endeavors as an innovative music teacher, Dyce Kimura is still extremely involved in the music industry. From recording in the studio to live performances, Kimura is known for his expertise in various styles of music. "When someone signs up for Skype guitar lessons, they usually have a goal," says Kimura. "Some students want to learn country and others want to learn pop. Staying active in the industry allows me to teach basically anything."
While country and pop are certainly some of the most popular styles for guitar students, blues and jazz are equally as popular. From the soulful stylings of Jimi Hendrix to the incredible sound of B.B. King, Kimura works to offer blues technique and expertise to his students. Skype blues guitar lessons give students the opportunity to learn the technique and musical knowledge that gives blues its distinct sound.
"Every genre has scales, chords, and mindset that is unique to it," says Kimura. "It takes years of practice to master each genre, but if someone wants to focus on the blues, I can definitely help with that." Throughout the years, the popularity of blues has solidified itself in the repertoire of guitar music and technique. Even if students decide not to pursue a career in blues music, the technique that the genre requires makes it easier to transition into pop, country, and other mainstream sounds.
Aside from Skype lessons, Kimura is also known for his Absolute Beginner DVD series. These pre-recorded lessons allow students to go at their own pace as they master the basic skills. Still, live Skype guitar lessons with Kimura are his most popular offering, as students have the opportunity to receive real-time feedback. For a limited time, students can receive half off their first lesson through the purchase of the beginner's package.
Dyce Kimura is a music professional who remains active in the music industry in Fort Lauderdale, FL.
Contact:
786-457-3687
http://www.skypeguitarlessonsonline.com/contact-dyce/