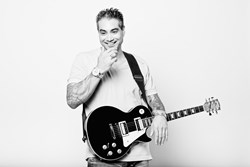 Fort Lauderdale, FL (PRWEB) November 14, 2013
Dyce Kimura, a finalist in the international Truefire Next Top Guitar Instructor Contest, is proud to announce exclusive offerings for music lessons online. Whether you sign up for Skype guitar lessons or download his Absolute Beginners DVD, or Skype ukulele lessons, Kimura is offering discounted prices for new students.
"When things get economically tough, music and the arts are some of the first things that families cut out of their budget – and that's a shame," says Kimura. "The Skype guitar lessons that I offer are designed not only for convenience, but to be a more affordable solution as well."
Aside from the affordability and convenience of Kimura's online lessons, many students like his unique perspective. As an active member of the music industry, Kimura participates in studio sessions and performance gigs alike. "I really like the idea of learning from someone who's active in the industry," says one student. "That's why I've taken lessons from Dyce since I was a beginner."
Indeed, being active in the music industry has given Dyce Kimura incredible experience in various genres of music. Though he enjoys worship music, country, and pop, Kimura also relishes the technique and musical virtuosity that blues guitar can require. If students want to focus on Skype blues guitar lessons, Kimura is certainly an expert resource, but he also encourages a holistic approach to music. "It's great to specialize in one 'type' of music," says Kimura, "but the best musicians are the ones that can pick up a chart and play anything."
Alongside the ability to play multiple styles, Kimura says it's increasingly important for musicians to be versatile and play multiple instruments. Through Skype ukulele lessons, Kimura is focused on helping musicians learn to play an instrument that is as unique as it is iconic.
"People think they can simply watch YouTube videos or visit a website and learn how to play an instrument," says Kimura. "While that works to an extent, the internet also gives us an opportunity to interact. With Skype lessons, students can receive immediate feedback and encouragement. It's just like a traditional music lesson – except it's cheaper and more convenient."
Throughout his career, Kimura has been passionate about sharing his gifts and talents with others, which is why he encourages his students to do the same. "My goal is to help my students accomplish theirs," says Kimura.
Dyce Kimura is a professional musician and respected music teacher in Fort Lauderdale, Florida.
Contact:
786-457-3687
http://www.skypeguitarlessonsonline.com/contact-dyce/