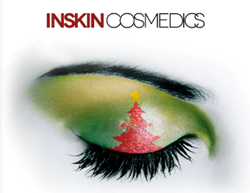 This year trust INSKIN COSMEDICS salons to provide you with skin transforming solutions - the gift that keeps on giving.
Sydney, Australia (PRWEB) October 31, 2013
Inskin Cosmedics, leading Australian beauty distributor is proud to present Christmas across their sought after brands O Cosmedics, emerginC signature range & scientific organics, Foot Peel and Minx Bronzing.
In an exclusive offer, Inskin Cosmedics has top to toe beauty covered, with the ultimate focus on "skin solutions", healthy skin and active ingredients. Christmas at Inskin is beautifully presented in European luxury travel bags guaranteed to leave any recipient feeling loved and truly spoilt.
Inskin Cosmedics Christmas collection includes FOUR generous offers from O Cosmedics its very own leading Australian cosmedical skin care line. Sold only by professionals only O Cosmedics proudly presents an impressive line-up of skin transforming offers.
Pack ONE
Healthy skin depends on a two-prong approach, the first starts in-clinic where a skin therapist diagnoses and prescribes an effective professional treatment; the second is home maintenance where more than 70% of treatment results can be enjoyed long-term. This Christmas you get to enjoy both. With every purchase of a "skin health prescription kit" you get a corrective O pomegranate or pumpkin enzyme peel treatment totally free. RRP $99
Pack TWO
Angelina and Brad both agree skin needling is a very effective, non-invasive anti-aging treatment, O skin experts have seen the transforming benefits of the O-Biotic serums, put them together and you get a the ultimate gift of skin health. This Christmas when you purchase any one of the O-Biotics serum you receive totally FREE a DNC skin-inject for homecare use. Valued at $99
Pack THREE
The O Christmas Lux Travel Bag includes best sellers, Gentle Antioxidant Cleanser, 3 in 1 Fruit Peel Mask, the new O-Biotic Comfort Cream and the Tinted Mineral Pro 30+ all stylishly presented in O Cosmedics branded Travel Bags. Enjoy savings off product AND receive the bag as a gift with purchase.
Pack FOUR
The Core of Christmas gift pack comes in the O Cosmedics Travel Bag and includes three skin essentials, the Gentle Antioxidant Cleansers, Eye Correct and the number one treatment hydrator Immortal Cream. The Core of Christmas is the perfect starter kit for skins looking for the ultimate awakening.
From our friends in NYC, leading Cosmeceutical brand emerginC makes the gift of skin solutions and skin youth way to easy. Wrapped in an elegant and super functional iPad come travel bag this gift packs includes emerginC's signature top sellers that when used as directed feed the skin with all the actives, nutrients and antioxidants it requires to stay young. Kit includes multi fruit cleanser, peach toner, vitamin C serum, multi vitamin and retinol serum, hypervitaliser face cream and eye cream and the infamous 'hot date "mask vitamin c and retinol mask. RRP just $99 save $90
The Cleansing Duo Pack includes a cosmeceutical cleanser and toner purchase with purchase offer, pay just $10 for your choice of toner when you buy a signature range cleanser.
"With Christmas approaching way to fast, we are confident that INSKIN COSMEDICS salons will be able to provide their clients skin transforming solutions and the ultimate gift of skin health, now who wouldn't love that this Christmas," said Inskin Cosmedics founder and CEO Marie Enna-Cocciolone.
For further information on gifts from Foot Peel and Minx Bronzing or any other information on Inskin Cosmedics go to: http://www.inskincosmedics.com or contact team(at)inskincosmedics(dot)com.