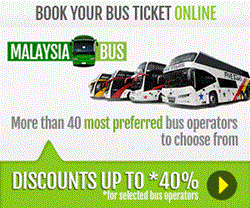 At the same time, it also aims to give travelers a safe and more enjoyable mode of transport.
Kuala Lumpur, Malaysia (PRWEB) November 04, 2013
http://www.malaysiabus.com has launched its brand new bus ticketing service for travelling from Malaysia to Singapore. The bus service is meant to facilitate travelers who want to enjoy every bit of their journey.
Malaysiabus.com is an initiative that is taken to promote Malaysia tourism industry. "At the same time, it also aims to give travelers a safe and more enjoyable mode of transport," said Winston – Marketing Manager of http://www.malaysiabus.com. We have made it easy for tourists to book online bus ticket and have a wonderful travelling experience.
Malaysiabus.com allows tourists to choose from 40 bus operators. All the buses are very well-conditioned with relaxed and comfortable seating. Operated by professional drivers, it lets the tourists to relax, play games, use gadgets, watch movies or do photography to capture the sensational scenes and landscapes that comes in the way of Malaysia and Singapore.
Malaysiabus.com offers a variety of bus routes. Tourists can select any route with this brand new Malaysia bus service. Some of the main routes available are bus from KL to Singapore, bus from KL to Penang, Bus from KL to Hatyai, bus from KL and many others.
To book the online bus ticket, just log-on to Malaysiabus.com and confirm your ticket. The website is filled with rich content such as latest blog, videos and photographs of Malaysia hot spots and interesting places such as Lost World of Tambun, A'famosa Resort, Kellie's Castle, Genting Highlands, Cameron Highlands, Legoland, Sunway Lagoon, and KLCC., to help you planning the trip in the way you want.
Malaysiabus.com will certainly play a significant role in promoting tourism.
About MalaysiaBus.com
MalaysiaBus.com is a one stop online bus tickets booking portal for several express bus companies in Singapore and Malaysia. Our coaches cover route within Malaysia and between Singapore and Malaysia.
To learn more about Malaysia bus, visit http://www.malaysiabus.com.