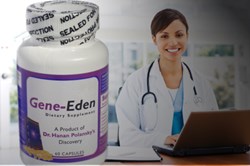 We recommend that individuals infected with VZV use Gene-Eden-VIR to help their immune system target the latent Herpes Zoster virus.– Mike Evans, polyDNA
Rochester, NY (PRWEB) November 01, 2013
Herpes Zoster is a condition caused by the reactivation of the Varicella Zoster Virus (VZV). WebMD says on its website that "Glaucoma is a condition that causes damage to your eye's optic nerve and gets worse over time (2)." According to Dr. Lisa F. Rosenberg MD, Herpes Zoster can make Glaucoma worse (1).
When Herpes Zoster affects the eye, the virus can spread rapidly and cause significant damage. In fact, every part of the eye can be harmed by VZV. The virus causes inflammation of the uvea. The uvea consists of the middle, pigmented, vascular structures of the eye and includes the iris, ciliary body, and choroid. As this inflammation occurs, pressure builds in the eye, causing glaucoma.
Dr. Rosenberg wrote that "ocular manifestations can be extensive and include every ocular structure… Early or mild anterior uveitis may present with minimal symptoms, whereas more severe cases are heralded by blurred vision, intense photophobia, injection, and fibrinoid iritis…Herpes Zoster uveitis can occur independently of corneal disease (1)."
After a Herpes Zoster infection of the eye subsides, "most patients suffer constant or intermittent discomfort or pain for a period of time in the distribution of their rash, called postherpetic neuralgia. Various systemic analgesics and anti-inflammatory, antidepressant, and anticonvulsant medications may be used to address this complication, which may last for many months and be difficult to control (1)."
"We recommend that individuals infected with VZV use Gene-Eden-VIR to help their immune system target the latent Herpes Zoster virus." – Mike Evans, polyDNA
In a post marketing clinical study published on August 12, 2013 in the medical journal Pharmacology & Pharmacy in a special edition on Advances in Antiviral Drugs, researchers showed that Gene-Eden-VIR is safe and effective (3). Additionally, up to 70% of those studied reported a decrease in viral symptoms, and users experienced an increase in overall health (3).
Each ingredient of Gene-Eden-VIR was chosen through a scientific approach. Scientists scanned thousands of scientific and medical papers published in various medical and scientific journals around the world to identify the safest, most effective natural ingredients that target the latent form of herpes. (3)
To learn more about Gene-Eden-VIR, visit http://www.gene-eden-kill-virus.com. All orders of Gene-Eden-VIR are completely confidential, and no information is shared or sold to any third party. Privacy is assured.
Reference:
(1) http://bmctoday.net/glaucomatoday/2013/06/article.asp?f=herpes-zoster-glaucoma
(2) http://www.webmd.com/eye-health/glaucoma-eyes
(3) http://www.scirp.org/journal/PaperInformation.aspx?PaperID=36101
polyDNA is a biotechnology company that develops dietary supplements using the unique scientific method developed by Dr. Hanan Polansky, which is based on Computer Intuition.
In addition to his unique scientific method, Dr. Polansky published the highly acclaimed scientific discovery, called Microcompetition with Foreign DNA. The discovery explains how foreign DNA fragments, and specifically, DNA of latent viruses, cause most major diseases.
polyDNA developed Gene-Eden-VIR , an antiviral natural remedy that helps the immune system kill latent viruses.