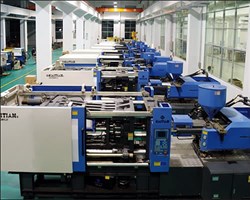 (PRWEB) October 30, 2013
Today, a popular China based company of plastic mold, China plastic parts, blow molding and injection molding services, has added 40 items to its plastic toy collection for Christmas. Big discounts are provided to celebrate the coming Christmas and expand market share.
According to Sidney, a sales manager of the company, besides the newly released plastic toys, all other plastic toy products from Wuxi Glory Plastics are offered at discounted rates, up to 36% off. The purpose of this special offer is to attract more clients and increase the company's market share.
"I believe that this promotion will provide a great opportunity for customers around the globe to get their desired products at affordable prices. Those who want to buy cheap high quality plastic toy to celebrate Christmas, please visit our website now." Sidney says excitedly.
Wuxi Glory Plastics considers customer satisfaction as its topmost priority. It always stresses customer support, application acceptance and wonderful design. By adopting concurrent engineering and product management methodologies, it is now able to shorten the development cycle. In addition, all the online staffs are very friendly.
The plastic toys come in various cute styles and colors; they are all made from superior materials. The company has its own professional design team and f qualified workers. It deploys strict regulations and quality checks to make sure that each product meets the international standards.
About Wuxi Glory Plastic
Wuxi Glory Plastic is a China based company operating online through its website plastics-molding.com. The company specializes in providing high end plastic molding products and services at affordable rates. For more details please visit: http://www.plastics-molding.com