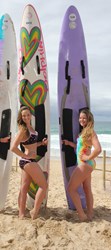 Prizes are set to total $10,000 dollars.
Sydney, NSW (PRWEB) November 01, 2013
Australian Made swimwear company Slix Australia is set to host the Annual Big Board Bounty Surf lifesaving carnival at Wanda Beach this Saturday, 2nd of November 2013.
Prizes are set to total $10,000 dollars, with $1000 for the Open Division Winners as well as the Top 3 places receiving Westfield vouchers. All other Ages prizes range from $150 and swimwear from Slix Australia, $100 2nd, and $50 3rd. Slix Australia has also kindly donated all of the Hi-Vis competition vests.
The Big Board Bounty is an up and coming event for surf lifesavers, where they are able to test their skills against Mother Nature's waves and competitors alike. The surf craft used for the competition are specialized for their maneuverability and speed which makes for an excellent display for spectators.
Host of the event Slix Australia will have a pop up shop on the day to display its fun and fashionable swimwear. Slix Australia's swimwear is unique in that it is not only 100% Australian made but it is also 100% built for functionality, being able to hold on in the surf whilst still maintaining maximum comfort and range of motion. Their fashion prints are available in a range of styles to suit young teens to active women and men.
It is also a great day for the whole family as well as there will be a range of activities and food stalls on the shoreline, including an appearance from the Cronulla Sharks with a 'Pass the Ball' competition.