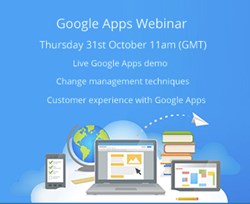 Hear from Google accredited engineers and change specialists in this complimentary webinar.
London (PRWEB UK) 30 October 2013
AppsCare, Google Premier Enterprise Partner, will hold their second complimentary Google Apps webinar this Thursday, 31st October 2013. The webinar will give attendees a unique insight into the Google Apps suite with a live demonstration, information about change management and first hand experience of migrating to Google Apps from JUST EAT's Head of IT Services, Martin Russell.
Individuals from any sector are invited to register for the hour long webinar which will begin at 11am (GMT).
Google Apps is a cloud-based productivity suite that helps individuals and teams connect and get work done from anywhere on any device. It's simple to setup, use and manage, allowing organisations to work smarter and focus on what really matters. The Google Apps suite includes, Gmail, Drive, Calendar, Sites, Hangouts and more for £33 per user per year. Licenses for Google Apps for Education and Google Apps for Non-Profits are free.
For more information and to register for the webinar, visit the AppsCare website.
About AppsCare
AppsCare, powered by Netpremacy Global Services, is a world leader in cloud services provisions, supporting over 2500 customers in 33 countries. AppsCare comprise 10+ years experience deploying technical solutions for organisations of all sizes and geographies utilising their GStall delivery methodology and AppsCare support programmes. AppsCare's engineers were some of the first to achieve both Google Apps Certified Deployment Specialist (GACDS) and Cisco IronPort Certified Security Specialist (CICSS) accreditations, providing unrivalled expertise in their customer care teams.