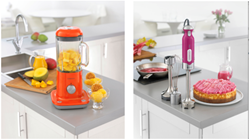 This summer we explore a world of fabulous colour and draw on the surreal beauty of nature from its tropical jungles to breath-taking oceans. - Chris Swart, Head of Buying at Boardmans
Johannesburg (PRWEB) November 04, 2013
As the days and nights get warmer and the outdoor world seems to come alive again with renewed vibrancy and colour, so we too turn our attention towards home living trends which best reflect the summer in all of its warmth and beauty. Indeed, the height of home-décor at Boardmans this season centres on the theme of paradise, inspiring some truly fabulous new design motifs.
Head of Buying for Boardmans Chris Swart provides lifestyle trend-setters with professional advice on how they can transform their homes into fashion-forward urban utopias.
Swart describes this year's summer home story as charming, elegant and tropical. "To achieve this leading look designers are combining exotic influences with decorative arts, generating a high-impact style by utilising strong, vibrant colour mixes," he says. "This summer we explore a world of fabulous colour and draw on the surreal beauty of nature from its tropical jungles to breath-taking oceans."
The design concept of paradise can be translated into three different looks namely tropical, aquatic and culture-clash. Each of these can be achieved through focus on bright colours, distinctive prints and patterns, as well as some key materials.
In terms of the prints and patterns which reflect this motif, focus on tropical jungle prints, geometric prints, insects and reptiles, birds, animals, colour blocking, digital and photo real prints as well as broken mosaics.
The culture-clash element can be brought in through Bahaus type prints, patchwork, paisley and multicultural prints, while the aquatic side features in prints of underwater creatures. To add texture, rustic materials, weaves, crochet and beading can be included.
However, as there is such a wide variety of prints to choose from, Swart warns against combining too many different looks as this can be overwhelming. "Key here is to remain within the same colour palette," he comments, "and of course to have fun!"
The key materials we find regularly appearing in this summer's paradise trend are various forms of glass: frosted, clear, coloured and smoky, with plastic, acrylic, ceramic, plywood, wood, crafted rattan, stone, concrete, jute and sisal also utilised often.
Bright and Modern
To translate this summer's theme into your kitchen, focus on bright pops of colour by purchasing a really funky new toaster, kettle or kitchen utensils. "Kitchen towels are also an easy way to include print, pattern and colour to your design motif," advises Swart. "A bright vase of freshly cut flowers is another way of bringing that vibrant summer freshness into the kitchen."
He reveals that modern appeal is key when it comes to the kitchen, saying that really great appliances are quickly able to transform a dated kitchen into one of classy modernity. To achieve this look, the Kenwood K-mix range is a fabulous fit, with modern appliances that come in a range of great colours.
Mix and Match
Swart explains that the bedroom is a great place to step up visual interest by mixing different prints and patterns, while remaining in one colour palette of course. Again the emphasis is on bright colour which can be achieved by introducing new bed linens, duvet covers, scatter cushions and a range of other decorative accessories into the room.
"You might be surprised how significantly a duvet cover and scatter cushions can transform your bedroom," he adds. As with most other rooms in the house, a beautiful bright vase with fresh flowers is a great way to usher in the summer theme. Alternatively, try a patterned lamp shade with a wooden base to add themed effect.
Cheery Accents
"Bright and cheery accents can transform any bathroom," reveals Swart. "Try changing up the mood and feel of the room with colourful accessories such as a bathmat or bright hand towels in floral and bird prints." Bursts of colour can also be included through really bright accessories such as soap dispensers, pedal bin and toothbrush holders.
Perhaps the best thing about this summer's fabulous theme is that it really allows for great creativity and imagination. Not only will it transform your home into a fresh and vibrant oasis, but you'll have fun doing it as well.
ENDS.
About Boardmans
Trust Boardmans, your home specialist store, to help you create an impression that lasts. Celebrate your world and get your home ready for any occasion with the best in kitchen, bedroom and bathroom brands. Visit our stores for the hottest seasonal trends, the widest range of international brands and great value. Go to http://www.boardmans.co.za for more information.
About ThankU
With more than 10 million loyalty cards, as well as a club membership programme, Edcon has the largest base of consumer credit customers in Southern Africa. Customers can now earn points whilst shopping their favourite international brands.
ENDS.