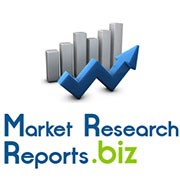 Albany, NY (PRWEB) November 02, 2013
Global Crankshaft Sensor Market 2012-2016
TechNavio's analysts forecast the Global Crankshaft Sensor market to grow at a CAGR of 18.92 percent over the period 2012-2016. One of the key factors contributing to this market growth is the reinforcement of fuel economy standards globally. The Global Crankshaft Sensor market has also been witnessing the increasing demand for crankshaft sensors from BRIC countries. However, the slow growth of automobile sales in the world could pose a challenge to the growth of this market.
To check out the complete table of contents, visit: http://www.marketresearchreports.biz/analysis-details/global-crankshaft-sensor-market-2012-2016
TechNavio's report, Global Crankshaft Sensor Market 2012-2016, has been prepared based on an in-depth market analysis with inputs from industry experts. The report covers the Americas, and the EMEA and APAC regions; it also covers the Global Crankshaft Sensor market landscape and its growth prospects in the coming years. The report also includes a discussion of the key vendors operating in this market.
Key vendors dominating this market space are Allegro MicroSystems Inc., Asahi Kasei Corp., Continental AG, Delphi Automotive plc, Denso Corp., Infineon Technologies AG, Micronas Semiconductor Holding AG, and Robert Bosch GmbH.
Click Here To Download Detail Report: http://www.marketresearchreports.biz/sample/sample/177693
Key questions answered in this report:

What will the market size be in 2016 and what will the growth rate be?
What are the key market trends?
What is driving this market?
What are the challenges to market growth?
Who are the key vendors in this market space?
What are the market opportunities and threats faced by the key vendors?
What are the strengths and weaknesses of the key vendors?
TABLE OF CONTENT
1. Executive Summary
2. Scope of the Report
3. Market Research Methodology
4. List of Abbreviations
5. Introduction
6. Market Landscape
7. Geographical Segmentation
8. Buying Criteria
9. Market Growth Drivers
10. Drivers and their Impact
To buy the copy of this report, visit: http://www.marketresearchreports.biz/analysis/177693
11. Market Challenges
12. Impact of Drivers and Challenges
13. Market Trends
14. Trends and their Impact
15. Vendor Landscape
16. Key Vendor Analysis
17. Other Reports in this Series
Latest Reports:
Assessment of the Battery Market in India: http://www.marketresearchreports.biz/analysis-details/assessment-of-the-battery-market-in-india
The Indian battery market is projected to remain optimistic throughout 2013 and the natural erosion of the unorganized sector is expected to continue to benefit the organized segment. Key drivers of the growth are the automotive and industrial sectors boosted by usage in the telecom, railways, power and other industrial applications. Globally, India is growing to be the seventh largest automobile market by 2016 and the third biggest by 2030. With the introduction of electric vehicles including e-bikes, solar rickshaws, buses and car, the coming decade is expected to see fast advancements in the market and a move over to lithium-ion and fuel cell technologies
The report '' Assessment of the Battery Market in India" highlights latest trends emerging in the market along with initiatives being taken by the major players. The current market scenario of the key market segments and future prospects of the sector has also been examined along with the challenges the sector is facing. The report contains latest verbatim of industry experts.
Click Here To Download Detail Report: http://www.marketresearchreports.biz/sample/sample/176009
Research methodology and delivery time
Smart Research Insights has conducted in depth secondary research to arrive at insights. Data collected from key industry sources has been analyzed impartially to present a clear picture of the industry. All recent developments which impact the sector dynamics have been captured and used to support the research hypothesis.
The report is available as single-site single-user license. The delivery time for the electronic version of the report is 3 business days as each copy undergoes thorough quality check and is updated with the most recent information available.
Neurovascular Intervention Market - Global Industry Analysis, Size, Share, Growth, Trends and Forecast, 2013 - 2019: http://www.marketresearchreports.biz/analysis-details/neurovascular-intervention-market-global-industry-analysis-size-share-growth-trends-and-forecast-2013-2019
Neurovascular intervention is referred to prevention, diagnosis, treatment and rehabilitation of vascular disorders of the central nervous system with minimal invasive procedures or technologies. Neurovascular disorders are normally treated through micro catheters or by emolization or recanalization of the abnormal vessels.
Neurovascular intervention market is segmented on following basis:
Disease condition
Endovascular cerebral aneurysm
Acute ischemic stroke
Chronic ischemic stroke
Intracranial atherosclerotic disease
Device type
Neurovascular embolic coils
DNeurovascular liquid embolism
Intracranial stents & flow diverting devices
Neurovascular thrombectomy devices
Carotid stents & embolic protection devices
Click Here To Download Detail Report: http://www.marketresearchreports.biz/sample/toc/177451
This research report analyzes this market depending on its market segments, major geographies, and current market trends. Geographies analyzed under this research report include
North America
Asia Pacific
Europe
Rest of the World
This report provides comprehensive analysis of
Market growth drivers
Factors limiting market growth
Current market trends
Market structure
Market projections for upcoming years
About Us
MarketResearchReports.Biz is the most comprehensive collection of market research reports. MarketResearchReports.Biz services are specially designed to save time and money for our clients. We are a one stop solution for all your research needs, our main offerings are syndicated research reports, custom research, subscription access and consulting services. We serve all sizes and types of companies spanning across various industries.
Contact
M/s Sheela
90 Sate Street, Suite 700
Albany, NY 12207
Tel: +1-518-618-1030
USA – Canada Toll Free: 866-997-4948
Website: http://www.marketresearchreports.biz/
Blog: http://industry-research-reports.blogspot.com/