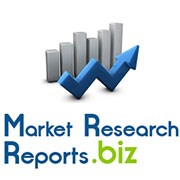 Albany, NY (PRWEB) November 02, 2013
The Commercial Helicopter Market 2013 - 2023
This report is the result of SDI's extensive market and company research covering the global Commercial Helicopter industry. It provides detailed analysis of both historic and forecast global industry values, factors influencing demand, the challenges faced by industry participants, analysis of the leading companies in the industry, and key news.
Introduction and Landscape
Why was the report written?
"The Global Commercial Helicopter Market 2013–2023" offers the reader detailed analysis of the global Commercial Helicopter market over the next ten years, alongside potential market opportunities to enter the industry, using detailed market size forecasts.
To check out the complete table of contents, visit: http://www.marketresearchreports.biz/analysis-details/the-commercial-helicopter-market-2013-2023
What are the key drivers behind recent market changes?
The global commercial helicopter sector is expected to experience a growth of 3.08% growth during the forecast period. The commercial helicopter market grows on the back of several sectors worldwide including offshore oil and gas exploration and production, HEMS, VIP transport, law enforcement and public safety etc. Europe and North America which are largest markets for civil helicopters are however saturated markets and thus are not expected to register considerable growth in their market size during the forecast period. Besides, the European market is also expected to experience a marginal decline owing to increased procurement in the first few years of the forecast period and a resultant lowered demand during the second half of the forecast period. Emerging markets of Asia Pacific, Latin America and Middle East are expected to provide the necessary boost to the industry during the forecast period.
What makes this report unique and essential to read?
"The Global Commercial Helicopter Market 2013–2023" provides detailed analysis of the current industry size and growth expectations from 2013 to 2023, including highlights of key growth stimulators. It also benchmarks the industry against key global markets and provides detailed understanding of emerging opportunities in specific areas.
Click Here To Download Detail Report: http://www.marketresearchreports.biz/sample/sample/177628
Key Features and Benefits

The report provides detailed analysis of the market for Commercial Helicopter during 2013–2023, including the factors that influence why countries are investing or cutting helicopter expenditure. It provides detailed expectations of growth rates and projected total expenditure.
29% of the civil helicopters across the world are used for emergency medical services and law enforcement; however this segment is almost negligible in the context of China, India and Middle Eastern countries. Therefore, manufacturers like Bell Helicopter, Eurocopter, MD Helicopters and others are vying to attain a share in the EMS helicopters sector in these untapped markets. Eurocopter projects a requirement of approximately 50 helicopters for medical emergency services in India during the next few years. The government should formulate policies to waive off or charge minimal on jet fuel taxes, landing charges so as to make HEMS affordable during the forecast period.
Key Market Issues
With the fast-growing market for civil helicopters across the world, it is even difficult to fulfill the requirement of trained commercial pilots and technicians for service and support function. Market like China, which is expected to add additional 2000 and more helicopter during the forecast period, would at least require 6300 helicopter pilots. On one side, manufacturers like Bell helicopters is viewing China as a strong potential market in the Asia-Pacific region and are trying to increase the sales and simultaneously helping to overcome the challenge of lack of pilots by signing agreements with aviation colleges. Bell signed a memorandum of agreement with Guangzhou Civil Aviation College for helicopter-maintenance training facility in China which is anticipated to be operational by the end of 2013.Training by Bell is specific to the variants including Bell 206 and 407. Similarly the Indian market is witnessing the expanding scope of operation in civil aviation but is facing the challenge of lack of pilots and training facilities in the country.
Reforms are needed in the low-altitude airspace which is a major challenge in growing markets like China and India in order to boost the growing demand in the helicopter industry. Chinese civil aviation authority is streamlining the process and plans to expand the flying air space for civil helicopters by 2015. The reason the authorities are delaying the process is due to the threat that foreign air-carriers would monopolize the market with their established products. Additionally in India the lack of helipads and landing infrastructure will hinder the growth of helicopters. The infrastructure is non-existent in both urban and the remote areas creating worst times for the country during a disaster or emergency situation. The Rotary Wing Society of India (RWSI) is putting efforts in developing an authenticated registered directory of the operating and available helipads, which is currently lacking in the country. Limited airport airspace is another obstacle, where helicopter operations are majorly flying in Delhi and Mumbai, due to latter proximity to the sea-based oil rigs, airports are over-crowded with heavy air traffic due to fixed-wing operations which is resulting in lower slots and priority to the helicopter operators.
To buy the copy of this report, visit: http://www.marketresearchreports.biz/analysis/177638
Key Highlights
North America and Europe have been the most important and prominent markets for commercial helicopter manufacturers until the last few years. However, the scenario has changed significantly in the recent years due to the saturation of the aforementioned markets due to which the growth was almost stagnant. Asia Pacific and Middle East are expected to be the growth centers for commercial helicopters during the forecast period owing to the huge potential in countries such as China, India, Australia, Japan, UAE, Qatar, etc. Additionally, the steadily growing oil and gas industry of the Middle Eastern countries is creating substantial demand for commercial helicopters to meet its increasing need for offshore transport in the coming years. EMS is also expected to be a considerable factor driving the market for civil helicopters in the Asia Pacific and Middle East during the forecast period, as countries in these regions still do not have an established EMS network compared to country in North America and Europe. Latin America is another region that is expected to witness robust demand for commercial helicopters registering a CAGR of 14.99% during the forecast period. This rapid growth in the region can be attributed to the strong economic growth in the countries such as Brazil and Mexico.
Even though light helicopters account for the smallest spending in the global commercial helicopter market during the forecast period, the segment is expected to grow robustly. This can be attributed to the rapidly increasing business from VIP or corporate transport and EMS firms and also the parapublic departments. In the present economic scenario, light helicopters are increasingly seen as a favorable choice by various organizations owing to their low price and latest technological advancements in the avionics and navigation systems. The global fleet of light helicopters as a percentage of larger helicopters fleet is thus increasing at a fast rate.
Latest Reports:
Pharmaceutical Market: India A Comprehensive Industry Analysis Q3 2013: http://www.marketresearchreports.biz/analysis-details/pharmaceutical-market-india-a-competitive-industry-analysis
"Pharmaceutical Market: India, A Competitive Industry Analysis Q3 2013" by Kelly Scientific Publications is a comprehensive report on the pharmaceutical and biotechnology industry in India and its impact on international markets. This report scrutinises top Indian pharmacos and their battle within domestic and international therapeutic markets. The business environment in which they compete is analysed as are key drivers, constraints, challenges and opportunities.
The Indian pharmaceutical market is set to become the eight largest pharma market globally by 2015. This report describes the current therapeutics that are propelling the biopharmaceutical market in India and the main players in the industry. It examines the current economic climate and how India compares to other emerging markets and also evolved markets such as the US and Europe.
Click Here To Download Detail Report: http://www.marketresearchreports.biz/sample/sample/168700
This study reveals market figures of the overall Indian pharmaceutical market and sub-markets and is supported by over 330 exhibits. Forecast projections and future growth rates are provided to give the reader a forthcoming perspective of this growing industry.
Current developments relating to patent expirations, government funding, and regulations are discussed. The emerging trends that appear in key sub-markets such as generics, oncology, cardiovascular, diabetes and vaccines are elucidated and analysed.
The study also provides a comprehensive financial and product review of key players in the biopharmaceutical industry in India. Strategic drivers and restraints of this market are revealed and market opportunities and challenges are identified.
Personalized Medicine and Companion Diagnostic Market Q3 2013 - A Strategic Analysis of Industry Trends, Technologies, Participants, and Environment: http://www.marketresearchreports.biz/analysis-details/personalized-medicine-and-companion-diagnostic-market-q3-2013-a-strategic-analysis-of-industry-trends-technologies-participants-and-environment
This is a comprehensive account of the market size, segmentation, key players, SWOT analysis, influential technologies, and business and economic environments. The report is supported by 261 tables & figures over 206 pages. The personalized medicine (global) market is presented as follows:
By Company (e.g., 23andMe, AFFYMETRIX, ATOSSA GENETICS, NODALITY, deCode /Amgen, CELERA, MYRIAD)
By Geography (US, UK, EU)
By Segment (Targeted therapeutics, Companion Diagnostics, Esoteric tests, Esoteric lab services)
By Sub-market (Companion diagnostics & therapeutic, nutrition & wellness, medical technology, pharmacogenomics, consumer genomics)
Click Here To Download Detail Report: http://www.marketresearchreports.biz/sample/sample/177629
A wealth of financial data & business strategy information is provided including:
Up-to-date company financials, sales & revenue figures
Business Model Strategies for Diagnostic, Pharmaceutical and Biotechnology Companies
Business Model Strategies for Providers. Provider Systems and Academic Medical Centres
Business Model Strategies for Payers & Governments
Private and Public Funding and Personalized Medicine Reimbursement
Revisions to Current Payment Systems and intellectual property
How to Gain Market Penetration in the EU
Cost-effectiveness and Business Value of Personalized Medicine
Consumer genomics and POC market
Therapeutics and Companion Diagnostics (e.g., BRAC Analysis, Oncotype Dx , KRAS Mutations)
Comprehensive account of company product portfolios & kits
About Us
MarketResearchReports.Biz is the most comprehensive collection of market research reports. MarketResearchReports.Biz services are specially designed to save time and money for our clients. We are a one stop solution for all your research needs, our main offerings are syndicated research reports, custom research, subscription access and consulting services. We serve all sizes and types of companies spanning across various industries.
Contact
M/s Sheela
90 Sate Street, Suite 700
Albany, NY 12207
Tel: +1-518-618-1030
USA – Canada Toll Free: 866-997-4948
Website: http://www.marketresearchreports.biz/
Blog: http://mrrfocuseconomics.blogspot.com/