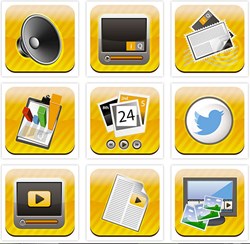 A selection of innovative web apps to enhance your online marketing and website
(PRWEB UK) 5 November 2013
Responding to customer demand, iQ interactive has developed a wide range of web apps that allow businesses to better communicate with their clients online. View the iQ toolkit at http://www.iqtoolkit.co.uk.
They have now combined these in an easy-to-utilize toolkit which allows companies to pick and choose the best tools for their website and client base. They can easily be implemented on an existing website without any hassle or development work required to integrate.
Features include tools to enhance the way you present video; whilst YouTube is a simple way to embed videos, you have little control over the look/feel of the player plus annoying adverts and potentially unsuitable recommended videos at the end of playback. iQ interactive includes a bespoke player in the toolkit which allows personalization of the player controls and watermark logo which links back to the company website. It can also be extended to present several videos in a video gallery allowing simple interaction to play videos from thumbnails in a single player. View an example of our Video Gallery app.
Other tools include an easy to update website calendar or diary for companies that need to advertise availability or events. It can be embedded into an existing website and updated easily in real time to ensure it's always current.
Also part of the toolkit is FlipDoc, an online brochure product which has the ability to embed videos within the pages as well as individual hyperlinks and any bespoke layout and design. View an example FlipDoc here.
Other web apps include a reporting tool on your website and social media, web design marketing services, video slideshow creator, bespoke audio player and email newsletter services.
View all the tools and find out more including pricing and live examples at http://www.iqtoolkit.co.uk.