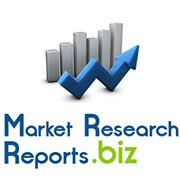 Albany, NY (PRWEB) November 03, 2013
3D Printing Markets: Hope, Hype and Strategies
This report pinpoints where the real opportunities will be found in the emerging 3D printing sector. Readers of the report will find an application-by-application assessment of the opportunities for 3D printing including comprehensive and granular ten-year forecasts of hardware, software and services.
The report also contains detailed profiles of leading firms to watch in the 3D printing space with SmarTech's assessment of their strategies and business models. The report also analyzes where there are gaps in the market that could be filled by start-ups and how established "rust belt" manufacturers are likely to react to the rise of 3D Printing.
To check out the complete table of contents, visit: http://www.marketresearchreports.biz/analysis-details/3d-printing-markets-hope-hype-and-strategies.
The objective of this report is to provide essential input to senior executives making marketing, business development and investment decisions in the rapidly evolving 3D printing business:

3D printer and scanner firms will better understand which applications represent true opportunities and which are just hype. Furthermore, where this report identifies new sources of business revenue it also provides guidance on market evolution and timing
CAD firms, software companies and service bureau will gain insight into where they can seek new addressable markets in the 3D printing space and how they should develop their business models over next decade
Potential end users of 3D printing throughout industry will increase their knowledge of where 3D printing is expected to advance revolutionary change and where it is expected to be merely a useful tool. In addition, they will come to understand the capabilities of state-of-the-art 3D printing and how those capabilities will increase over the coming decade.
Click Here To Download Detail Report: http://www.marketresearchreports.biz/sample/sample/174518
This report provides a roadmap for 3D printing technology that will be invaluable to product managers of all kinds and its scope extends to all serious applications and end user sectors that have been proposed for 3D printing to date.
TABLE OF CONTENTS
Chapter 1: Business Strategies for the 3D Printing Industry
1.1 Is 3D Printing Really a Disruptive Technology?
1.2 Successful Strategies for 3D Printer Companies
1.3 Emerging Software Strategies for the 3D Printing Industry
1.4 3D Printing Service Bureau Strategies
1.5 Key R&D Trends in 3D Printing and Additive Manufacturing
Chapter 2: Revenue Generation: Emerging and Established Markets for 3D Printing
2.1 Generic Advantages and Disadvantages of 3D Printing Manufacturing
2.2 Future Evolution of 3D Printing: Home Brew to Small-Scale Manufacturing
2.2.1 The "Maker" Movement and the Firms that Supply It
2.2.2 Homebrew/Small-Scale Manufacturing: Current and Future Printer Needs
2.2.3 Growing Use of Additive Manufacturing in Less Developed Nations
2.2.4 Ten-Year Forecasts of Revenues from Home Brew/Small-Scale 3D Printing
Chapter 3: 3D Printers: Technology and Product Evolution
3.1 Industrial-scale 3D Printers
3.1.1 Core Technologies and Future Product Evolution
3.1.2 Key Suppliers and Products
3.2 3D Printers for "Makers" and Hobbyists
3.2.1 Core Technologies and Future Product Evolution
3.2.2 The Future of Open Source in 3D Printing
3.2.3 Key Suppliers and Products
To buy the copy of this report, visit: http://www.marketresearchreports.biz/analysis/174518.
Chapter 4: Software and Services Opportunities in 3D Printing
4.1 Evolution of 3D Printing File Formats
4.2 3D Printing and Scanning Service Bureaus
4.2.1 Entry of large firms into the 3D Service Bureau Business
4.2 3D Design and Modeling Software
4.2.1 Solid Modeling CAD
4.2.2 3D Computer Graphics
4.2.3 Scanning Software
4.3 Ten-Year Forecasts of Revenues from 3D Printers and Scanners
4.4 Key Points Made in this Section
Latest Reports:
Pharmaceutical Market: India A Comprehensive Industry Analysis Q3 2013: http://www.marketresearchreports.biz/analysis-details/pharmaceutical-market-india-a-competitive-industry-analysis
"Pharmaceutical Market: India, A Competitive Industry Analysis Q3 2013" by Kelly Scientific Publications is a comprehensive report on the pharmaceutical and biotechnology industry in India and its impact on international markets. This report scrutinises top Indian pharmacos and their battle within domestic and international therapeutic markets. The business environment in which they compete is analysed as are key drivers, constraints, challenges and opportunities.
The Indian pharmaceutical market is set to become the eight largest pharma market globally by 2015. This report describes the current therapeutics that are propelling the biopharmaceutical market in India and the main players in the industry. It examines the current economic climate and how India compares to other emerging markets and also evolved markets such as the US and Europe.
Click Here To Download Detail Report: http://www.marketresearchreports.biz/sample/sample/168700
This study reveals market figures of the overall Indian pharmaceutical market and sub-markets and is supported by over 330 exhibits. Forecast projections and future growth rates are provided to give the reader a forthcoming perspective of this growing industry.
Current developments relating to patent expirations, government funding, and regulations are discussed. The emerging trends that appear in key sub-markets such as generics, oncology, cardiovascular, diabetes and vaccines are elucidated and analysed.
The study also provides a comprehensive financial and product review of key players in the biopharmaceutical industry in India. Strategic drivers and restraints of this market are revealed and market opportunities and challenges are identified.
Personalized Medicine and Companion Diagnostic Market Q3 2013 - A Strategic Analysis of Industry Trends, Technologies, Participants, and Environment: http://www.marketresearchreports.biz/analysis-details/personalized-medicine-and-companion-diagnostic-market-q3-2013-a-strategic-analysis-of-industry-trends-technologies-participants-and-environment
This is a comprehensive account of the market size, segmentation, key players, SWOT analysis, influential technologies, and business and economic environments. The report is supported by 261 tables & figures over 206 pages. The personalized medicine (global) market is presented as follows:
By Company (e.g., 23andMe, AFFYMETRIX, ATOSSA GENETICS, NODALITY, deCode /Amgen, CELERA, MYRIAD)
By Geography (US, UK, EU)
By Segment (Targeted therapeutics, Companion Diagnostics, Esoteric tests, Esoteric lab services)
By Sub-market (Companion diagnostics & therapeutic, nutrition & wellness, medical technology, pharmacogenomics, consumer genomics)
Click Here To Download Detail Report: http://www.marketresearchreports.biz/sample/sample/177629
A wealth of financial data & business strategy information is provided including:
Up-to-date company financials, sales & revenue figures
Business Model Strategies for Diagnostic, Pharmaceutical and Biotechnology Companies
Business Model Strategies for Providers. Provider Systems and Academic Medical Centres
Business Model Strategies for Payers & Governments
Private and Public Funding and Personalized Medicine Reimbursement
Revisions to Current Payment Systems and intellectual property
How to Gain Market Penetration in the EU
Cost-effectiveness and Business Value of Personalized Medicine
Consumer genomics and POC market
Therapeutics and Companion Diagnostics (e.g., BRAC Analysis, Oncotype Dx , KRAS Mutations)
Comprehensive account of company product portfolios & kits
About Us
MarketResearchReports.Biz is the most comprehensive collection of market research reports. MarketResearchReports.Biz services are specially designed to save time and money for our clients. We are a one stop solution for all your research needs, our main offerings are syndicated research reports, custom research, subscription access and consulting services. We serve all sizes and types of companies spanning across various industries.
Contact
M/s Sheela
90 Sate Street, Suite 700
Albany, NY 12207
Tel: +1-518-618-1030
USA – Canada Toll Free: 866-997-4948
Website: http://www.marketresearchreports.biz/
Blog: http://marketpresss.blogspot.com