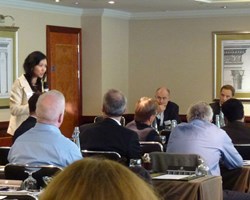 Asia - a focus of attention of consumer health executives
UK (PRWEB UK) 31 October 2013
Nicholas Hall & Company, providers of complete OTC marketing and business support, is looking forward to meeting OTC executives in fast-growing countries from India to Singapore. It has been a busy period of the company's Chairman, Nicholas Hall, who has just returned from Auckland where he explored global and local trends, pharmacy point-of-care, distribution and innovative marketing methods in consumer health.
CubeX, a division of Sorento, is hosting an event - Innovation in OTC Business: From Concepts to Action' - in Mumbai on the 22nd November which will welcome Nicholas as a guest speaker. Nicholas will explore and share industry innovations using his personal knowledge and experience.
Nicholas will open the first of the Asian OTC Workshops in Shanghai on the 25th November 2013. Industry expert James Fan, President & CEO of Jowin and James Huang, Associate Director of BASES Product Innovation of Nielsen will join the event as guest speakers.
On the 3rd December, for the first time, the series of OTC Action Workshops 2013 will take place in Jakarta marking the growing interests and importance of the Indonesian OTC market. Veronita Rusli, Regional Director of Nicholas Hall & Company Asia-Pacific and Senior Consultant, and Imtiaz Akbar, Associate Director of Nielsen will join Nicholas to provide delegates with a complete view of the market.
Finally, the series of events will conclude with Singapore, which will be celebrating its fourth year, where Veronita Rusli will present key findings from the region. Nicholas Hall's OTC Action Workshops are designed to be interactive, encouraging delegate participation. Each delegate will come away from the event with new contacts and ideas to build their brands.
To book a place at any of the events mentioned, please visit Nicholas Hall & Company's website or contact Jasper Teo at jasper(dot)teo(a)NicholasHall(dot)com.
About Nicholas Hall & Company
Since 1978 Nicholas Hall & Company has offered comprehensive OTC marketing and business solutions. Specialising in OTC, our consultants and market analysts have many years of experience while our international network of contacts means we can offer strategic advice, data & analysis and competitive intelligence on a global scale.
Nicholas Hall's Conferences & Action Workshops invites delegates to discover new ideas, debate issues and developments with industry peers. Nicholas Hall leads most of the events personally and is supported by a panel of guest speakers. With a large group of delegates from markets across the world, the conference offers relaxed networking opportunities.
Editor's Notes:
Dates:
Mumbai: 22nd November
Shanghai: 25th November
Jakarta: 3rd December
Singapore: 5th December
Contacts:
Valerie Tsang Group Director of Marketing & Sales
Email: Val(dot)tsang(at)NicholasHall(dot)com | Telephone: 01702 220223