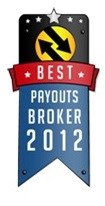 MarketsWorld was arguably the first fully regulated & licensed binary options provider and we have built our platform with our customers in mind. - Bruce MacLean PR Manager
Douglas, Isle of Man (PRWEB UK) 30 October 2013
MarketsWorld, the licensed and regulated binary options platform, has today announced its commitment to continue to provide returns of up to 95% on its binary options for 2014.
The British Isles based company confirmed this amid further progress to their proprietary software platform.
Bruce MacLean, PR Manager of MarketsWorld comments, "In April 2011, MarketsWorld was arguably the first fully regulated & licensed binary options provider and since then we have built our platform with our customers in mind. From the outset we wanted to provide the best customer experience with the highest returns and over time we have been recognized in providing this; in 2012 we received awards for our high returns. This commitment to our customers has not changed and I am pleased to reaffirm that MarketsWorld will continue to pay out returns of up to 95% in 2014."
MacLean goes on to say, "2013 has been a transformational year for MarketsWorld. Whilst many changes have been visible to our customers; such as our dynamic charting and Neteller integration, behind the scenes there have been large developments which we look forward to rolling out. Many of these changes have been driven by our customers; our next rollout is the eagerly anticipated 60 second Binary Options, followed by the rollout of further tradable assets. 2013 has ensured that in 2014, MarketsWorld will be leading the way in the Binary Options Industry".
The company has also committed to keeping their free demo account version of the trading platform. This demo platform is identical to the real money platform and enables customers to practice their strategies and get used to the MarketsWorld interface prior to moving into real money.
MacLean concludes, "MarketsWorld has developed the business to be best of breed within an industry blighted by grey operators hiding in unknown territories or locations. From our regulation, which is known to be tough and protective of consumers, through to our top class customer service, we feel that all areas of the business need to be exceptional in order to fully satisfy the growing demands for our Binary Options Trading. We always welcome feedback and for any of our customers looking to have their say, they can do so by emailing service(at)marketsworld(dot)com".
With payouts to remain the same, of up to 95% and more exciting developments in the pipeline MarketsWorld is clearly working hard to push the industry forward into 2014 and beyond.
To open an account with MarketsWorld click here.