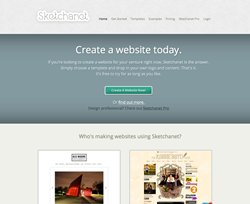 My output of website projects has increased dramatically.
London (PRWEB UK) 31 October 2013
Sketchanet, the new website design platform launching this month, provides a two tiered offering: (1) a simple template based system allowing the web design novice to create a website in three minutes and (2) A suite of powerful tools allowing the creative professional to design and build in one process, without writing any code, improving workflow and productivity, and to do this for an unlimited number of clients.
Founders Piers Milburn and Drystan Howell developed hundreds of websites for the likes of comedy quiz show QI, Cadbury Ice Cream and The Groucho Club. They found that a number of the time consuming html, css, and javascript coding processes could be more easily managed by a visual user interface, speeding up the website design process significantly. This and the strongly held belief that everyone should be able to create a beautiful website, regardless of technical ability, led to the development of Sketchanet.
"What we have created is something which gives the designer true flexibility and the non-designer ease of use. That is a rare combination. There are flexible platforms out there, but to get the most out of them you often need to code, while the systems that are easy to use don't have the power and flexibility of Sketchanet", said Piers Milburn, Founder.
Drystan Howell, technical director and co-founder further explains: "The grid editor interface reduces the time it takes to create complex page layouts from hours to minutes." He continues "the layout browser lets you try out your website content in different compositions ('layouts') at the touch of a button, so you are never stuck with a particular design and can easily keep your site looking fresh".
"My output of website projects has increased dramatically. I'm able to design right in the browser, with some of the tools replacing photoshop and I no longer need to hire a developer to build the site", says designer Sam Hextall (Director, Studio91). Sam added, "I love the clone feature, you can instantly clone an entire website, giving you a massive head start with your next project."
You can access the platform and create as many versions of your websites as you like for free - when a site goes live at a custom domain, there is a low monthly subscription charge of £15 (+VAT). The subscription includes hosting, and there are no extra charges for upgrades, adding data, adding pages or customer support. According to Drystan Howell, "Incremental charges are one of the biggest issues that people have with other website platforms. So we don't do it."
Anyone interested in building their own website can find out more about Sketchanet's website design platform by visiting http://www.sketchanet.com.
Designers and developers interested in using Sketchanet's more advanced website design tools can find out more by visiting http://www.sketchanet-pro.com.
About Sketchanet
Sketchanet (http://www.sketchanet.com) is an online website design and management platform founded in January 2013 by Piers Milburn (Designer) and Drystan Howell (Developer).
Sketchanet Ltd is a privately owned company based in London.
Media Contact:
Piers Milburn, Creative Director
+44 20 3397 7183
piers(at)sketchanet(dot)com