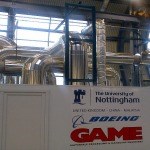 "We were very pleased with the expertise provided by GAME and the co-operation in assisting us to build our test rig."
Lincoln, East Midlands (PRWEB UK) 18 November 2013
Leading aircraft manufacturer Boeing is working with the Polymer Composites Research Group in the Institute of Aerospace Technology at The University of Nottingham to develop recycling technology for carbon fibre composites.
Carbon fibre reinforced composite materials are now widely used to reduce weight in aircraft through their high stiffness and strength. Waste material is generated through production as well as end of service components and currently this is landfilled, which is a waste of resources as well as detrimental to the environment. The aim of the project is to promote a more sustainable use of materials.
Game Engineering was selected by The University of Nottingham to assist with the manufacture of a scaled-up pilot plant for the recycling process by providing design, manufacturing and project management services for the University.
The leading materials processing and handling engineers have over 25 years' experience in delivering innovative, imaginative and real world solutions to customers and work with a diverse range of industry sectors ranging from Biomass Handling & Fuel Generation to Pet Food.
Professor Steve Pickering, leader of the composites recycling research team, commented, "We were very pleased with the expertise provided by GAME and the co-operation in assisting us to build our test rig."
About Game Engineering Ltd
Game Engineering is a process engineering firm founded in 1986. The company employs over 70 staff and provides expertise in the areas of Pet Food, Animal Feed, Biomass Handling & Fuel Generation, Grain & Seed and Waste Recycling. GAME provide turnkey design and plant solutions and produce a range of bulk handling equipment. GAME also act as official distributors for the specialist bin supplier SCE, Silo Construction Engineering Limited of Belgium. For more information visit: http://www.game-engineering.com.
Our experience is your guarantee.
###