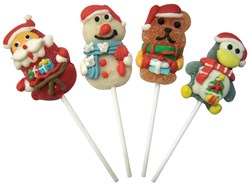 2013 seems set to be even more rewarding for Hancocks, with the sweet and chocolate supplier announcing a significant seasonal sales increase.
(PRWEB UK) 30 October 2013
Traditionally, end of year sales have been the most lucrative time of year for Hancocks. The autumn and winter months tend to see retailers stocking up not only for Christmas, but for Halloween too; sweets of all varieties are proven to be a big draw among consumers for both occasions.
2013 seems set to be even more rewarding for Hancocks, with the sweet and chocolate supplier announcing a significant seasonal sales increase: when compared to the same trading period last year, seasonal sales have increased by a whole 8%. In other good news for Hancocks, the amount of newly registered trade customers across its 20 nationwide depots has also gone up for this trading period by 4%.
The new influx of customers and the upward trajectory of sales indicate that Hancocks' reputation as the UK's premium confectionery wholesaler is continuing to grow. According to Hancocks' Purchasing Director, Jonathan Summerley, the latest figures highlight a number of key trends.
"By the sales figures, we can tell that businesses are inclined to buy earlier and are tending to buy more stock this year. Likewise, the increase in trade customers highlights that Hancocks is continuing to develop its reputation as a leading confectionery wholesaler".
Summerley says the wholesaler has seen certain gifts in the Hancocks' Christmas range in particular leading the way to Hancocks' impressive end of year sales. Some of Hancocks' best-selling products for the festive season include exclusive products such as Christmas Jelly Pops (49p RRP), 170g Giant Jazzies (at £2.49 RRP) and, new for 2013, Swizzels branded giant sweet filled containers and sweet filled mugs. Hancocks' exclusive sweet filled wooden novelty toys were a major success last year and have extended their popularity in 2013; classic chocolate coin nets and an enormous 100g chocolate coin are performing well this year as well.
Commenting on the types of confectionery that has led to Hancocks' success, Summerley comments:"It is the more creative items, rather than the non core-branded products, that have been performing well. We would recommend that retailers look to expand beyond the core brands to market more interesting and fun gift ideas for their local customers."
Focussing on ecommerce sales, Hancocks' peak came in November last year. This year Hancocks is seeing an extremely buoyant October for online sales with November still to come. Sweet shops, convenience stores, off licences and online sweet businesses are all stocking up earlier than usual, whilst also selecting a wider range than in previous years.
Summerley concludes, "Confectionery retailers have good reason to be more optimistic about the festive season in 2013, as the economy shows real signs of recovery. We hope that we continue to keep businesses well stocked and ensure that our customers have a merry, and sweet-filled Christmas!"
Since 1962, Hancocks has been the leading confectionery wholesaler for independent businesses in the UK. You can visit Hancocks' website today to see its vast Christmas range, or visit one of the 20 nationwide Hancocks cash and carry depots.