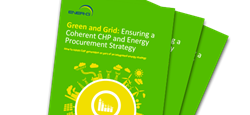 CHP can deliver impressive cost savings on spiralling energy bills, but it's important to align your energy purchasing strategy.
Manchester, UK (PRWEB UK) 30 October 2013
A new guide from ENER-G Procurement , entitled 'Green and Grid, Ensuring a Coherent CHP and Energy Procurement Strategy', is intended to help organisations ensure they maximise the impressive cost savings from their CHP system.
When CHP is installed it affects a company's demand for both gas and electricity from the network. By generating energy efficient electricity and heat off-grid, CHP owners' demand for network electricity drops, whilst gas consumption (as the primary input fuel for CHP) increases. In addition, actual CHP operating hours can vary from initial plans, again varying your network demand. In these cases, organisations can be exposed to financial penalties as power and gas consumptions swing in and out of contractual tolerance bands.
"It is crucial that CHP owners keep forecast consumption under review – rather than relying on historical usage patterns, so they can set new tolerance thresholds with suppliers, as necessary," said Mark Alston, Director of ENER-G Procurement. "This might involve switching supplier to find a more flexible 'CHP friendly' contract and a better price on gas supply".
"For CHP owners it can make sense to move from fixed utility contracts to flexible contracts, which allow organisations to re-forecast and re-align their purchasing strategy on a regular basis to meet fluctuating consumption requirements, thus avoiding volume penalties. For those used to the budget certainty of fixed purchasing, these contracts can be arranged within a carefully defined risk management strategy. Collective purchasing contracts can also be considered for those whose consumption is not large enough for flexible purchasing."
For organisations selling excess power, negotiating a competitive export contract with a suitable supplier is crucial to increasing the return on investment of the CHP asset and generating revenue. The requirement by the National Grid for additional power and demand by certain suppliers to have their own generation supply is accelerating growth of this market.
"Power exportation is looking a more attractive option across England," said Mark Alston. "Depending on volume, location and timing of export, you can expect to receive in the region of 6 pence per kWh, split into unit rate and embedded benefits."
ENER-G Procurement is the sister company of ENER-G Combined Power, which is European market leader in small scale cogeneration with 30 million hours of cogeneration operating experience and 695 MW of generation capacity. The two companies have worked together to manage robust procurement strategies for CHP customers, helping to shape expertise in this niche area.
ENER-G Procurement is an independent energy purchasing and management specialist and a founding member of the business energy brokerage watchdog Utilities Intermediaries Association (UIA). The company provides energy services on behalf of members of the British Chambers of Commerce and EEF, the UK manufacturers' organisation.
Combined heat and power provides the simultaneous generation of electricity and useful heat and is typically 85% efficient for on-site energy consumption. It is around twice as efficient as conventional power generation, cutting costs by up to 40% over electricity sourced from the grid and heat generated by on-site boilers. Systems powered by natural gas or other fossil fuels will reduce carbon emissions by approximately 20%, while the carbon reduction benefits are even better for those systems primed by renewable fuels.
Download the ENER-G guide to CHP and Energy Procurement.