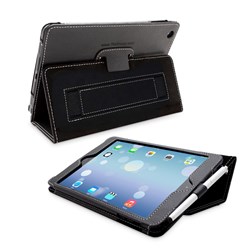 Apple products are still as popular as ever.
(PRWEB) October 31, 2013
Nearly a third of people surveyed (29%) said that they thought the iPad Air's best feature was that it weighed just one pound, meaning it will be easier to transport. Almost a fifth of respondents (19%) said that they were most excited for the new A7 64-bit processing chip, proving that Apple fans really do know about quality technology.
When it came to the iPad mini with Retina, it came as no surprise that most people (35%) voted that they were most looking forward to the 7.9-inch display with Retina. The high resolution screen will be a massive transformation for the iPad mini, and will make it a really popular mini tablet.
Over half of those surveyed (53%) said they would definitely purchase one of the new tablets, with another 30% being undecided – just going to show that Apple knows how to make devices that people want.
However, nearly half of people (46%) admitted that they wouldn't buy insurance for their new tablet, meaning that they would need to keep it protected in a high quality case.
Les Yates, marketing manager at The Snugg, said: "The survey results show that Apple products are still as popular as ever, as so many people will be picking up a new iPad on release date. It's interesting that people are most excited for the iPad Air's tiny weight, and for the new iPad mini's Retina screen."
"It also shows that most people don't really consider getting their iPad insured. With an expensive tablet, skimping on protection really is a false economy. If people don't want to splash out on costly insurance, a more affordable option is a protective case, which will keep your iPad from getting bumped or scratched."
The Snugg will have cases available for the iPad Air and the iPad mini with Retina on their respective release dates, so Apple fans will be able to get their beloved tablets protected as soon as possible.