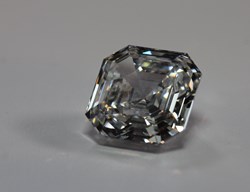 The aesthetic beauty of this extremely rare and valuable diamond is a testament to the individual who painstakingly cut and polished this 'miracle of nature'.
Toronto, Canada (PRWEB) October 31, 2013
Genesis Rare Diamonds (Ontario) Ltd., operating as Genesis Rare Diamonds in Toronto, Canada and London, UK, is pleased to announce the sale of a 15.10 carat, D Colour, Asscher cut, Flawless diamond to a Canadian client for $3.3 million.
"This is one of the most aesthetically magnificent and valuable diamonds in the world," noted Jeff Kushner, President of Genesis Rare Diamonds (GRD).
Mr. Kushner added that Genesis' primary business relates to the buying, selling and trading of natural colour diamonds and the incorporation of same into custom-made one-of-a-kind jewellery creations. However, he pointed out that, "The Buyer of the diamond, an existing client of Genesis, stated to us several years ago that she was seeking an Asscher cut, D colour, Internally Flawless diamond of approximately ten (10) carats and that she has been searching for such a diamond for almost twenty years, but to her dismay she was unable to source one."
Over the last two years, we at Genesis had been attempting to source such a diamond through our network of international suppliers to no avail. Several weeks ago we were contacted by one of our sources that provided us with a true copy of a Gemological Institute of America (GIA) Report and photograph of the "stone of stones."
Genesis, acting as broker on behalf of our client, negotiated the transaction. "It was a tedious and complicated affair," notes Mr. Kushner, however, "both Seller and Buyer acting reasonably agreed upon a price acceptable to both parties and the transaction was concluded on October 22, 2013."
"It is not often that we deal in White diamonds," states Mr. Kushner, "but if a client is serious about acquiring a truly remarkable one, we will go to great lengths to accommodate the request. What is so remarkable about this particular diamond is that it met the criteria set by our client and then some."
The diamond itself is not only one with significant carat weight (15.10 carats), but the colour (D) and clarity (Flawless) is just part of the story. The GIA Report also discloses that the diamond exhibits an "excellent" cut with "excellent" symmetry and no florescence. As Mr. Kushner points out, "Our client's wish list included a clarity of Internally Flawless (IF) where the diamond is in fact Flawless (FL), meaning the stone contains no inclusions whatsoever and there are no external blemishes. In addition, the diamond is classified as a "Type IIb" by the GIA, meaning the stone makes up about 0.1% of all natural diamonds, making it one of the rarest natural diamonds, and very valuable. The Hope diamond exhibited at the Smithsonian Institute is perhaps the most famed Type IIb diamond in the world.
"The aesthetic beauty of this extremely rare and valuable diamond is a testament to the individual who painstakingly cut and polished this 'miracle of nature,'" adds Mr. Kushner.
Notwithstanding the protracted negotiations and the arduous verification process to protect the interests of our client, it is extremely gratifying to know that she is now in possession of a magnificent jewel that had eluded her for almost twenty years.
---
About Genesis Rare Diamonds (Ontario) Ltd. and Natural Colour Diamonds
Genesis Rare Diamonds specializes in the trading of some of the world's highest quality, investment-grade and conflict-free natural colour diamonds. Rare coloured diamonds are the most concentrated form of wealth on the planet as they make-up less than 1% of the world's diamonds mined annually. In over 30 years of value tracking, the wholesale value of investment grade natural colour diamonds have never decreased, despite world conflict, terrorism and economic upheaval.
These diminutive commodities are part of an ever diminishing worldwide supply with constantly increasing buyer demand, annual value increases have been pushed to increasing levels. On average, over the last 30 years, natural colour diamonds have increased in value by 15% to 30% yearly with no signs of slowing notwithstanding the economic downturn of 2008.
Natural Fancy Coloured Diamonds are not a short term investment. This asset class is intended for the longer term, with a holding strategy that could potentially net returns far greater than the stock market could hope to achieve. Our diamond group is dedicated to ensuring the best possible position for every client. We recommend only the finest natural colour diamonds at the most reasonable and competitive prices.
Genesis Rare Diamonds pledges to never deal in blood or conflict diamonds and never will. All of our diamonds have undergone strict compliance with the Kimberly Process, are certified by recognized gemmological laboratories (such as GIA and EGL) and are unconditionally guaranteed as to cut, clarity, colour and carat weight.
Disclaimer: Genesis Rare Diamonds is not an investment advisor nor is it licensed to provide investment advice. Genesis Rare Diamonds strongly recommends that their clients seek the advice of their financial advisors, gemologists and/or attorneys if they are seeking to invest in quality diamonds as part of an investment portfolio or strategy. Natural colour diamonds have been subject to upward price movements historically. Genesis cannot guarantee that upward price movements of natural colour diamonds which have occurred historically will continue in the future.