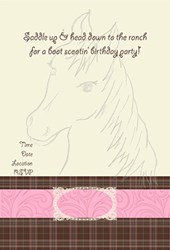 Bringing professional party planning to the reach of every hostess.
Fort Collins, CO (PRWEB) October 31, 2013
Introduced this week on the Confetti Couture blog, a new rustic-chic cowgirl party plan is available. The plan introduces unique and creative cowgirl party ideas. With all the details covered for party food and drinks, decorations, party games and activities that double as a favor, taking the reins on this party is easy for any hostess.
The blog makes it entertaining easy by organizing ideas for every aspect of the party. Cowgirl decorations, a sweet cowgirl party food menu, games and activities fit for a bustling group of cowgirls, and all the details come together in an easy to follow party plan. Free printable party downloads bring a polished look to the Confetti Couture party, and recipes, tutorials and links make bringing the party to life manageable.
The cowgirl party ideas include a free cowgirl party invitation to download and print. From the invitation to the party activities and everything in between, the hostess can just follow the instructions to throw an amazing party that looks like she hired a pro.
Busy moms have little time and lots of stress, and the staff at Confetti Couture aims to help any busy hostess pull together a fantastic party with ease, in record time. Bringing professional party planning to the reach of every hostess, Confetti Couture is the "Virtual Party Planner."
About Confetti Couture
Confetti Couture is an innovative manufacturer selling unique party supplies and bakery goods focused on the modern hostess. Offering an array of products that give the hostess a sophisticated, but playful edge on entertaining, Confetti Couture's hand designed art is what sets their products apart from the usual and expected party goods and brings personality to the party. The Confetti Couture website is a complete and creative planning resource for hosting a wedding, party, or any other event. http://www.confetticouture.com/.