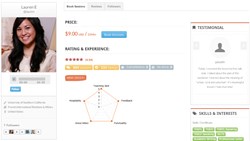 Life-changing experiences.
(PRWEB) November 01, 2013
SkimaTalk has officially launched its new platform (http://www.skimatalk.com), seeking to connect English learners with native English speakers around the world.
Since the beta launch in 2012, more than 4,000 members have joined the community marketplace for English learners and teachers. English learners can now find their ideal teachers among more than 500 native English speakers around the world and receive their lessons on Skype.
Creating a world without boundaries
The platform is offering the easiest way for cultural discovery and helping to create a world without boundaries. Just 30 minutes after logging in to our website, SkimaTalkers can connect and talk face-to-face with someone who is on the other side of the world. It is making it a lot easier for people to meet others who are unlike themselves, interact with them, and learn from them.
Affordable one-on-one English lessons with native English speakers (US$7/25min~)
The platform applies the Consumer-to-Consumer (C2C) business model where teachers pay a 20% system fee and directly offer teaching services to their customers on the platform. Therefore, it is more cost-effective and affordable than Business-to-Consumer (B2C) services. The teaching method, teaching quality, and even individual teacher rates vary. The community has a variety of teachers who run their teaching businesses through the platform and treat students as their important clients. That is why students have been impressed with our lessons. One student was so happy that she "almost cried."* SkimaTalk's teachers have been known to turn lessons into "life-changing experiences."*
*Actual comments from students.
Immediate access to the ideal English teachers
Learners can search teachers by interest, specialty, and other students' ratings and comments. SkimaTalk's user-sourced recommendation system enables learners to find credible, best-fit teachers, and allows the best teachers to stand out. Learners can learn English anytime, anywhere using Skype video. There is no registration fee or monthly fee.
The company has also launched a Tokyo office to further expand users in Japan and other Asian countries. Within two years, it plans to acquire 100,000 users, and by gradually expanding vertically and geographically, it aims to have 1 million users worldwide in the long term.
About SkimaTalk (http://www.skimatalk.com):
SkimaTalk, Inc. (Belmont, CA) provides a language-learning platform that empowers individuals to share language skills globally through one-on-one online video conversations. SkimaTalk continues to recruit native English speakers. The majority of SkimaTalk teachers started teaching without any prior teaching experience or certification, and for many learners, a teacher's passion and willingness to help others matter more. Those who are interested can apply here: http://www.skimatalk.com/become_teacher.