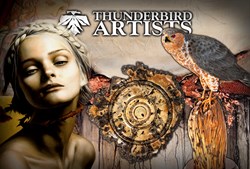 Carefree, AZ (PRWEB) October 30, 2013
"It is such an honor," says Vice President, Denise Dale, "We had a wonderful season in 2012-13 and received some prestigious awards. It is particularly exciting as we are a small family owned and operated business. This year, we are proud to have Sanderson Lincoln as the presenting sponsor for our first Carefree Signature Event, helping to further increase awareness of the arts in the local community."
Judi Combs, President of Thunderbird Artists, attributes a lot of their success to the Carefree, Cave Creek Chamber of Commerce and all their delightful volunteers who have donated so much of their time, working side-by-side with Thunderbird Artists to make these events extraordinary. "There is no way Thunderbird Artists can take all of the credit because of their respected partnership with this chamber," states Combs, "Patty Villeneuve, Executive Director of the chamber, demonstrates incredible leadership and is highly respected among her members/volunteers, which is why there is such organization and flow in making these events the best they can be."
Thunderbird Artists was recently awarded an AzTEC award for their 24-page program guide and received an additional AzTEC award for their 2013 limited edition print, by award-winning artist, Richard Curtner. They were voted "Entrepreneur of the Year for 2012" by the Carefree CaveCreek Chamber of Commerce, took a staff choice award for their 2012 limited edition print by renowned artist, James Ayers, for Sunshine Artists Magazine. Also in 2012, Thunderbird Artists was rated one of the 'Top 5 Arizona Art Experiences' by the readers of Experience AZ Magazine, a biannual Arizona travel and tourism publication.  Most recently, they were selected as one of the three top finalists for the Micro Business category of the prestigious Sterling Awards presented by Scottsdale Chamber of Commerce.  The Thunderbird Artists have been partnering with the non-profit charity, Carefree Cave Creek Chamber of Commerce, since the first show twenty years ago. Vice-President Denise Dale states, "The Chamber's Executive Director, Patty Villeneuve, and all their wonderful volunteers have been our greatest and longest running partnership throughout the state of Arizona."
The Town of Carefree (population 3,310) supports Thunderbird Artists' fine art festivals by closing their streets to host prize-winning, nationally renowned and emerging artists from around the world.  Participating juried artists will be exhibiting and selling paintings in all mediums and subjects, bronzes, pottery, glass, stone, copper, clay, metal, batiks, hand made paper and mixed media sculptures, fine jewelry, photography and much more. Thunderbird Artists has an exceptional following of award-winning wines and wineries, ranging from local Arizona wineries, wines throughout the U.S. and wineries across the globe. Patrons enjoy the ambiance of sipping fine wines as they stroll amongst Arizona's finest gathering of artists, while listening to the tunes of talented musicians.
Unique specialty shops, boutiques, galleries, restaurants and outdoor cafés nestled in the Sonoran desert of Carefree, makes the perfect backdrop for Thunderbird Artists' Signature Carefree Events.
These Signature Festivals take place November 1, 2 & 3, 2013, January 17, 18 & 19 and February 28, March 1 & 2, 2014.  The event opens at 10am and closes at 5pm each day.  Visit Thunderbird Artists' Signature Carefree Event and see why patrons rave about these quality, juried fine art and wine festivals.
To reach Thunderbird Artists' office, please call 480-837-5637 or visit their website at http://www.ThunderbirdArtists.com.