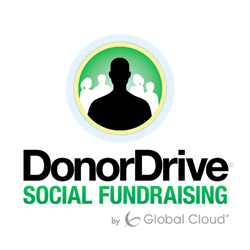 Our clients rely on our innovations and it's one of the reasons we're the fastest growing fundraising platform in the category.
Cincinnati, Ohio (PRWEB) October 30, 2013
Nonprofits using DonorDrive Social Fundraising software saw an unprecedented 34% increase in online fundraising when comparing the first three quarters of 2012 to 2013. Despite some industry reports of lackluster fundraising for 2013, both new and long-term DonorDrive clients had dramatic increases over their 2012 revenues. DonorDrive clients also saw a 32% increase in the number of donations made online over the same period.
Todd Levy, Managing Partner and Co-Founder of Global Cloud makers of DonorDrive, feels the numbers demonstrate the rapid migration to online philanthropy. "In the first three quarters of 2013, our nonprofit clients have already raised as much as they did in all four quarters of 2012. Since December is traditionally the largest month for giving, we will have to adjust that 34% figure higher before year's end."
Todd feels the success is the result of multiple factors: "One is to make giving impulsive. DonorDrive provides an organization's supporters with the ability to easily fundraise through their familiar apps, like Facebook, Twitter and email. And with our responsive mobile design, we're taking the fundraising to where supporters and their circles are right now. DonorDrive capitalizes on the instant culture that we live in." Some of DonorDrive's largest clients are seeing mobile revenues nearly doubled after responsive design was implemented. DonorDrive is the first fundraising software to incorporate responsive mobile design into all public-facing web pages and administrative tools at no extra cost to nonprofit clients.
Another factor that's playing a significant role in better, easier online fundraising is the unique Fundraising Motivation Engine™ feature in DonorDrive. "The system knows where each supporter is in the fundraising process and encourages their next step to achieve their fundraising goal. Organizations used to have to do this manually. This feature frees up nonprofit resources to work more efficiently on their mission." This is echoed by Brooke Desserich of The Cure Starts Now: "How DonorDrive has really helped us is in streamlining our daily operation so we can focus on the cause."
According to Todd the most important component of the success equation is the staff at the organization itself: "We have very savvy client organizations fundraising through DonorDrive that understand how to best use these innovations to benefit their cause. In addition, our approach is to focus on the human partnership between the DonorDrive Team and each nonprofit. We take a vested interest in their success and work with them to use our technology in a way that translates directly into increased fundraising. Our clients rely on our innovations and it's one of the reasons we're the fastest growing fundraising platform in the category."
###
DonorDrive® is truly effective software dedicated to event-based social fundraising for medium and large nonprofits. Children's Miracle Network Hospitals, Doctors Without Borders, World Vision, JDRF Canada and Team ASPCA are a few of the causes that use DonorDrive Social Fundraising software for their runs, walks, rides and virtual campaigns to engage constituents and maximize donations. Every year, people are raising millions for great causes through DonorDrive. Learn more at DonorDrive.com.